SHOW REVIEW: The Pixies
McDonald Theater - April 27, 2004 (Portland, Oregon)
By: Brad Halverson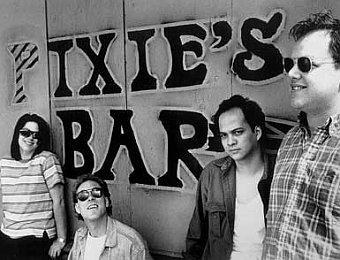 "How can I? Because I don't have a bigger pile of money? That's a bad attitude when you make your living as a musician. Hey, you're in. You're in the club, you're on tour, you make records, you get to sing with David Bowie on his 50th birthday. What more do you want? An island?"- (Frank Black on complaining - The Washington Post)

There wasn't any real reason for the Pixies to reunite other than money. Dozens of legendary bands have done it before, and in some of the more depressing cases, live on indefinitely, becoming little more than jukeboxes that pump out their old hits to giddy audiences who are just overwhelmed by the fact that they get to see their old heroes alive and on stage. The cynicism only seems to creep in after the third or fourth reunion tour when Eddie Vedder is finally invited to guest on a few songs. This is not the context that anybody wanted, or expected to see the Pixies reunite in.

I'll be the first to admit that I was certainly one of the giddy fans when I attended the April 27th Pixies show at the MacDonald Theatre in Eugene. The room seemed divided between people like me, and cynical hipster types who seemed to be big fans of the band, but also expected them to fail. One of the first things I heard on the way our of the theatre was, a stringy, greasy looking kid muttering, "Well they were better than I thought they would be." Others were still freaked out and giddy, happy that they finally got to see their favorite band again, or for the first time like me. Personally I just didn't know what to say.

"People are always going to say, 'Yeah great record. Not quite as good as that old Doolittle record.' They're always going to say that. I'm not sure why. I'm just guessing ahead. It has to do with the bottom line. Maybe I'm wrong. Maybe my records now just aren't as good."-Frank Black

The impact of this band's music cannot be measured, because they were the first who did what they did, and they did it well enough that all their imitators never equaled or bettered them. It's an honor given to the Beatles, for reinventing what pop music can be, and to the Ramones for inventing everything good about punk music. You can see their influence everywhere today. While Nirvana was the most vocal champion of the Pixies' influence, we still hear stirrings of the Pixies from every band who has ever done the quiet/loud thing, and the sheer inventiveness of the songwriting changed the very idea of what a pop rock song could be. What do you think Radiohead would sound like if the Pixies never existed?
What was kind of sad about the show was that it took this long for the band to get their due. In fact, they still haven't entirely gotten their due. To this day, Frank Black's solo releases fail to make significant sales despite that his solo work has long surpassed the Pixies' output in both quantity and quality. Now that he's at the ripe old age of 39, Frank no longer seems to care about grabbing his audience on first listen like he did with songs like "Debaser" and "Gouge Away" but once his new work takes hold it never let's go. Albums like "Teenager of the Year" and "Black Letter Days" to name just a couple of my favorites, give you the same sense of "Holy crap, this stuff is genius" that the Pixies albums do. Only while Surfer Rosa sounded perfect on first listen, "Teenager of the Year" only reveals itself as one of the best rock albums ever (no hyperbole here) once it's all sunk in after a dozen listens and you realize that every song you thought was filler before suddenly seems perfect. If this tour accomplishes only one thing, I hope that even more people hear about this band, and in turn explore Frank's solo work (and the first couple Breeder's albums too of course). However, this band, despite being a decade or so older, and perhaps because of it, have managed to return at the top of their game.
"You want me to play a new song? 'Cause I could do one of those old Pixies songs...I'm okay with it now."- (Frank Black - Interview with Steve Lamacq on the BBC)
Once the sense of the impossibility left me after the first couple songs of the show, it couldn't be more evident that the band was back and amazingly sounded as good as they ever had. Even if the show lacked any big surprises, the fact that these guys were on stage together again, playing the hell out of some of the best rock songs ever written, and seemingly having a great time doing it, was more than any music fan could ask for. Joey Santiago demonstrated that he's still one of the most unique, and underrated guitarists anywhere. Throughout the show he only occasionally cracked a smile as he gently murdered his guitar, ever the professional. Even though he was too loud in the mix, he worked around it and seemed organically attached to these songs. "Vamos" is one of those sort of average Pixies songs that turn into something more within a great performance and Joey managed to make this so-so little song into one of the highlights of the evening. Though Santiago never seemed too impressed with himself, Frank occasionally shot him impressed smiles as if to say, "This guy is friggin awesome." In fact the camaraderie between Frank and Joey was one of the highlights of the show. Frank, much balder and larger than he ever was back when he went by Black Francis, performed most of the show with his eyes closed, loosening up only when he had a break from singing. On the less stoic side of things, drummer, David Lovering, and bassist, Kim Deal, just seemed happy to be there. Kim had a big grin on her face throughout the show; she seemed to be enjoying herself. Though, her performance wasn't as tight as the others' (she even forgot the words to "Gigantic" and had to ask Frank for help mid-song) but overall, the band sounded terrific.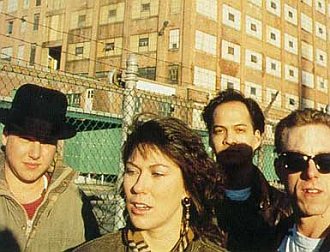 The general consensus is that the band's last two albums, "Bossanova" and "Trompe Le Monde" aren't quite as good as their earlier stuff, and the band seems to agree. The set list was comprised almost completely of songs from "Come on Pilgrim", "Surfer Rosa" and "Doolittle". The mostly quiet and always beautiful "Bossanova" was represented only by "Velouria" and the noisy mass of complex genius, "Trompe Le Monde" was ignored completely. While it's true that neither of these albums have a full dose of that bizarre Pixies energy that drove their earlier work, the songs on these records are still unbelievably strong, and it was a shame to see them completely ignored. I for one would have loved to hear "Motorway to Roswell", "Dig For Fire" or "Alec Eiffel" performed but when you have a catalogue like the Pixies have, it's not like there's any real bad songs to choose from. They could have picked the setlist randomly and still had a great show to perform.
Aside from the complete lack of representation of their later work, there were few surprises during the show and two of them came at the end of the show. The first is the hilarious, rarely performed, "La La Love You" with Lovering singing lead. The second surprise was the performance of "In Heaven" sung by Kim instead of Frank. You could argue over which version of the song is better all you want, but the fact remains that this one sounded great. Plus, it lead into the second performance of "Wave of Mutilation" of the night, the second being the slower "UK Surf" version. It was beautiful in a way that only the Pixies could pull off.
"I like being the underdog. It?s better than sucking."- Frank Black
As the show closed with "Into The White" I knew I would hear several arguments about how great they were, or how disappointing it was, or why did they even bother, or how they're great and amazing and all that. However this tour has affected the band's legacy, I went home that night knowing that I had seen a great show from a great band. One of the greatest, in fact. If the fact that the band "sold out" tarnishes their great history in your mind, just remember that if any band deserved to sell out in the first place, it would be this one. They set the stage for a new age of rock music, then disintegrated before they could really stake their claim in it. As far as I'm concerned, this tour isn't solely about selling out. It's about getting a little bit of justice, spreading the word about a great chapter of rock history that many people haven't discovered yet, and most of all, it was about a band finally being able to take what's theirs. The word of mouth spread about this band from day one, but they're only now reaching the level of recognition they deserve. If it takes ten more years for Frank Black's solo work to be heard by the larger audience it deserves, and if it takes ten years for the Breeders to be recognized as more than "that band that did that "Cannonball" song, then maybe there's hope for good music to be recognized after all. But seriously, why wait?
(Frank Black quotes courtesy of www.frankblack.net)