INTERVIEW: Kevin Hearn
Barenaked Ladies' Kevin Hearn discusses his solo album (Kevin Hearn's web site)
By: Kelly Guimont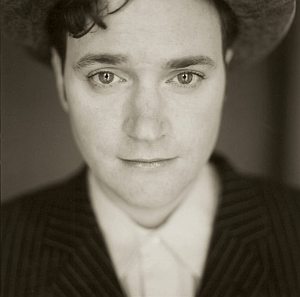 "What are you wearing?"

This is the one question that Kevin Hearn wishes to answer but is never actually asked. He set it up, so it was immediately posed to him. "Brown sneaker, jeans, a leather jacket...I'm in the park, walking my dog."

Hearn goes way back with everyone in the current version of Thin Buckle, he played with all of them in the performance art band Look People out of Toronto. This was before he did time with Corky & The Juice Pigs (a comedy troupe) and two records with the Rheostatics. Then came the fateful day in '95 when he was asked to join the Barenaked Ladies summer tour to fill in as their keyboard player. It was supposed to be a temporary thing, but he's been there ever since, somehow managing to find the time around his "temporary" gig to release his first solo album in 1997 titled Mothball Mint.

Oh yeah...in 1998 he was diagnosed with Chronic Myelogenous Leukemia. It was after he kicked cancer's ass that he released his second solo album, the Juno nominated H-Wing, named for his digs at Princess Margaret Hospital. "That was six years ago. It has been quite the journey, things are good right now", Hearn says.

Good indeed. Recorded in fall of 2002, his latest solo album Night Light is being well received, and his "other" band is currently in the studio. "I can't tell you what it is, but it'll be out in late November. That's when you should play it too, late November or December, because it may not sound right the rest of the year." Hmmmmm...

Having found the time to create not only the songs for this album but the accompanying artwork as well, Night Light was finished and ready to go when Hearn got the call and joined his BNL-mates to record their latest, Everything To Everyone- putting his solo release on hold temporarily. "It was hard because it was all ready and then I had to put it on the back burner to do the Barenaked Ladies album."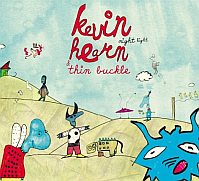 What's it like to go from supreme ruler to part of a committee? "It's a completely different dynamic to go from one to the other", Hearn confesses. "When I write for me, I know that I have to sing my own song, and it tends to be much more personal. Otherwise I have to keep in mind that someone else will be singing it." He must have done a good job, he contributed to six tracks on the record.
However, as supreme ruler, he wrote songs for Night Light that all contain "an element of reflection on a life experience" whether it's a lost opportunity ("Jocelyn") or a missing guitar ("Lost And Stolen"). All, that is, save "War Pigs", the Black Sabbath cover that closes the CD. Hearn learned to play mainly bluegrass and classical music, and proves it by turning in a bluegrass cover of the classic heavy metal song...what the!?
"I've been told that I sound like Kermit The Frog singing, so I thought it would be cool to hear Kermit sing a Black Sabbath song. We played it live for awhile for fun because of that, and then Ozzy got his own TV show and Bush attacked Iraq, so even though it doesn't really fit with the rest of the album it was the right time to release it."
So to wrap up, what is the question he is sick to death of answering?
"Where did the name 'Barenaked Ladies' come from?"
That question was never asked.