Prey for Rock & Roll
Starring Gina Gershon, Drea De Matteo, and Marc Blucas (Lion's Gate Films)
By: Alex Steininger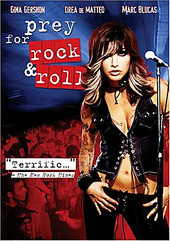 Prey for Rock and Roll, starring Gina Gershon, Drea De Matteo, and Marc Blucas, is an hour and a half movie about Gershon's band, The Clam Dandys. And, their quest for rock stardom - or at least a label and the ability to make a living off of playing music.

Tired of playing the same dive bars in the same town, the movie depicts a band struggling, growing older, trying to figure out if they can make it as a band, if they should just do it as a hobby, or if they're too old and give up. After all, who wants to be playing in a rock 'n' roll band when they're fifty?

Along the way, though, there are many personal trials and tribulations, including rape, death, and drugs. Sex, drugs, and rock 'n' roll, the movie wouldn't be complete without these things.

However, after watching the movie, which I liked and found entertaining at 4am when I had nothing better to do, I was left asking myself, "can that many bad things really happen to a band? Sure, your transmission blows while you're on tour. You can't find a label so you self-release. Your drummer quits because he/she is a junkie. You have no money, so you play a gig, get ripped off by the promoter, and walk away, after a packed house, to $12.00".

Sure! Those things happen. But, the bad things in this movie, do they really happen to bands?

I thought the drama could be focused elsewhere. And, granted it's a Hollywood movie, but if The Clam Dandys were tired of playing their hometown and the same dive bars, and couldn't find a label deal, maybe they should have gotten off their asses and toured! Yes, toured! How do you think bands make it?

OK, so you guessed it. I was a little disappointed in the writing. I thought some things could have been added, removed, and changed. Indeed! But, I realize it was a Hollywood movie meant to entertain, and not be a true story. So, I accept the added drama and things it is missing.

With all that aside, Gershon is hot. She's fun to look at. She's even believable. Actually, all four members of The Clam Dandys are believable. The acting, though bad in any other movie, actually fit for a cheesy movie about a rock 'n' roll band. The plot, the story line, and the characters are well-developed, the play their parts well, and never once did I not believe their characters (I just didn't believe the super bad things that kept happening to them, that's it).

Before I keep rambling, let me just end it by saying, yes, it is entertaining. And, yes, I probably will watch it again. It's no Shawshank Redemption, but it's also no Dude, Where's My Car?. It is somewhere in between, and just entertaining for when you need drama-filled entertainment about a struggling rock band. I'll give it a B-.