Something Corporate
North (Geffen Records)
By: Vinnie Apicella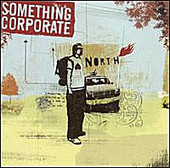 Something Corporate's sophomore effort indicates something serious lurking beneath the otherwise pasty-faced Pop exterior. "North" is spirited and uplifting but also plaintive and purposeful. The five member band, that did a quarter million in sales for last year's "Leaving Through The Window," puts all the parts in place on this one, an album more befitting of a decade long veteran player as opposed to relatively youthful newcomers still getting their wings. Emotive and edgy, tunes like "As You Sleep" or "Space," the catchy first single, and the stellar "Only Ashes," amongst the more electric and adventuresome of the twelve, reveal an adolescent like docudrama at odds with adult-level stress.

"North" is a pleasant combination of Pop acoustics and AOR an unlikely duo in this day and age, combining a wholesome folksiness to the playing, benefited by the percussive presence, altogether supporting middle school detention center desk etchings revealing and retiring the innocence of the inner child. Where many typically Pop/Rock groups begin and end with two forcibly fed singles to the impulsive consumer, and maybe a tune's lucky enough to land the next prime time teen drama opening, Something Corporate offers at least three, "Space," "Only Ashes," and "Me And The Moon," quickly surface, plus plenty more, all of which add to the immediacy and indispensability of a clever and catchy band with eyes to the sky. Suitable listening for followers of Dashboard Confessional, Saves The Day, The All American Rejects and all purveyors of finely crafted Pop tunes with a purpose.