Say Hi To Your Mom
Numbers & Mumbles (Euphobia Records)
By: Alex Steininger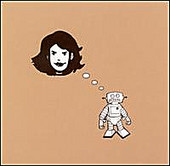 Brooklyn-based singer-songwriter Eric Elbogen goes under the moniker Say Hi To Your Mom. His debut album, Discosadness, showcased his soft, lo-fi, indie-pop vibe. And though its follow-up, Numbers & Mumbles doesn't stray too far from that sound, Elbogen and his supporting cast have stepped it a notch, marking the growth with better songwriting, and a more focused approach. Recording everything on his home computer, Elbogen takes advantage of the situation and delivers a record that goes beyond the lo-fi approach of the debut, without losing the charms and specialties of the lo-fi approach, while delivering a record that is full of hooks and still very indie.

Songs such as the tongue-in-cheek "Pop Music of the Future", which takes shots at trend hoppers. The hooky indie-rock number "Hooplas Involving Circus Tricks", and the mark of a bad relationship, "Let's Talk About Spaceships", complete with the chorus "let's talk about spaceships, or anything except you and me, OK?", Say Hi To Your Mom's sophomore effort is cozy, relaxed, and even dreamy at times. But, it's far from a sleeper.

A delightful, fun indie-pop record that is solid on first listen, but just becomes more fun each consecutive listen, this Brooklyn act is sure to turn some more indie heads with this release. I'll give it a B+.