R.E.M.
In Time: The Best of R.E.M. 1988-2003 (Warner Bros. Records)
By: Alex Steininger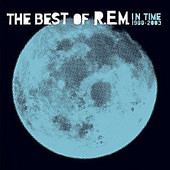 With extensive liner notes from R.E.M.'s guitarist Peter Buck, including a paragraph on each of the seventeen tracks on In Time: The Best of R.E.M. 1988-2003, a retrospective that covers the best of their Warner Bros. records - from 1988's Green through 2001's Reveal. And including three new songs: the album's first single, "Bad Day", "Animal", and "Nightswimming". In Time is a fitting collection of songs that showcase R.E.M.'s rise to fame and subsequent switch from jangly pop-rock to adult pop.

With obvious selections such as "Losing My Religion", "Everybody Hurts", "Man on the Moon", "Stand", and "What's The Frequency, Kenneth?". And other R.E.M. staples such as "Orange Crush", E-Bow The Letter" (featuring Patti Smith), and "Daysleeper", novices and casual fans of the band will instantly recognize more than half the record right away - and already be able to sing along with it.

However, the big treat is the above-mentioned liner notes (at least for hardcore fans), and the new material.

The new material finds the band straddling between the two R.E.M.'s found throughout this album.

"Bad Day" is a solid, jangle-y, hook-laden pop song that showcases how the band came up in the ranks and staked their claim on the college airwaves before exploding and, at one time, becoming the biggest rock band in the world.

"Animal" showcases the latter R.E.M., the highly produced, less soulful, going-through-the-motions band.

And, "Nightswimming" finds the band delivering a heartfelt, poignant adult contemporary piano-pop song.

The album teeters between these forms, the jangle-y, carefree pop band that earned R.E.M. a cult following, and the hit-producing, labor-oriented, produced entity that sold millions upon millions of record.

However, In Time does find them co-existing, with the band producing a shimmering, shiny pop nugget (such as the gem "The Great Beyond" for the movie Man on the Moon) latter in their days (1999) while treading heavy adult alternative prior to that.

Fair enough. This is a retrospective of their Warner years, and as such, does rightful by those terms. The hits are here. The fan favorites are, too. And, "Bad Day" and "Nightswimming" are two songs that, though different, vibrantly showcase the power and magnitude of R.E.M.'s pop form. "Animal", which Buck claims to have been recorded in fifteen minutes after only rehearsing for two weeks, however, seems to not carry as much soul as some of the band's other tracks - maybe due to its rushed nature? At any rate, this is a good representation of how R.E.M. got to the top and later retained their cult status. I'll give it a B.