Nik Freitas
Heavy Mellow (Future Farmer)
By: Alex Steininger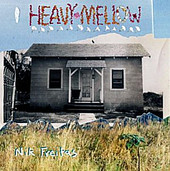 Former Thrasher Magazine photographer Nik Freitas' second solo record, Heavy Mellow is aptly titled. Coming into his own, and expanding on the foundation laid with his debut record, Here's Laughing At You, he creates a mellow, vibe-esque record that is also heavy at times, even during the mellow times.

Now, by saying heavy, I don't mean heavy metal heavy. Instead, Freitas prefers to write thick, full, big sounding pop-rock sounds, like the opener, "Be Honest", its crunchy guitars and bouncy melody recalling a relaxed, laid-back day in the sun, kicking back, but having fun, and sweating.

"Treat Me Right" continues with this feeling, the sugarcoated hooks coming at you while Freitas explores both his rock and roll and pop obsessions.

However, a slow, syrupy song like "Cheaters" showcases his ability to keep it slow and still equally moving and strong. While "Nursery Street" demonstrates his ability to write acoustic-based, but still fleshed out, semi-lush songs that lose the rock and noise, but still keep things equally memorable.

Freitas has delivered a pop delight with Heavy Mellow. His melodies are top-notch, and his lyrics compliment them perfectly. His voice also helps add the blue-collar touch, making this a well-rounded album. I'll give it a B+.