Lesser
Suppressive Acts I-X (Matador)
By: Cam Lindsay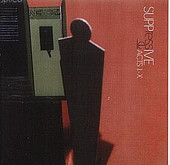 Somewhere deep in the psyche of Lesser's J D?erck a screw's come loose. This accomplished noisemaker is actually convinced that he can pull off these outrageous death metal tangents in his IDM. A former member of A Minor Forest, Lesser became the vehicle for D?erck's interest in fiddling about with a computer to come up with abstract and far out sounds (which has recently seen him helping out Bj?rk). Keeping an interest in his punk/metal roots, though from a distance, Suppressive Acts I-X isn't your typical electronica record and that's good. Like his friends and conspirators Kid 606 and Matmos, Lesser never makes things easy, whipping up the most complex designs with moments that can both sooth and torment the eardrums. "The Science of Pathology" opens the album with an anarchic death punk anthem that would fail if it were placed elsewhere in the tracklisting. For what follows after is Lesser hitting his stride making music with software. Using elements of all sorts -- drill 'n' bass, ambient, dub, glitch-hop and techno -- he fuses everything without leaving an opaque product. His use of samples isn't the mess of blatancy some artists set themselves up for. "Dandy In The Fedora" uses traces of hip-hop to give it some character, but its treated so imaginatively, it ceases to become a lame case of old-school hero worship. Guests appear, but not for long. "Ancient Chinese Whack-off Session" features bLevin bLectum, but you wouldn't know that without the liner notes. Drew Daniel makes an appearance on the ever-so-playful "Crushing Your Repulsive Pince-nez Underfoot", helping give the album both a childlike quality and a sense to run for your lives. Being one of the only electronic acts signed to Matador, Lesser should receive the attention he deserves. His second album for the indie-favourite label is an assorted gathering of many bright ideas that is sure to seem him rise above and show he isn't a token act.

*And for the technologically enhanced folks out there, included in MP3 form with the CD is the 1995 album by the 80s spoof band Lesser formed, The Robotic. Unfortunately, due to the fact that I'm still living in a time before MP3, I am unable to comment on what this sounds like.