The Karl Hendricks Trio
The Jerks Win Again (Merge Records)
By: Alex Steininger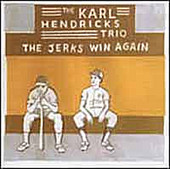 Loud, crashing, guitar-driven indie rock, The Karl Hendricks Trio's seventh record, and first in 5 years, The Jerks Win Again finds the band picking up exactly where they always were, not missing a bit in five years.

They're older, wiser, and the songs show growth and maturity, but are still as biting and abrasive as the band has ever been. This is exemplary indie rock, the kind of buzzing, but melodic guitars that fuse together with floppy, bouncy beats, a ragged, just pulled together feel that, although well maintained, still feels as if it could lose its focus at any minute. And that's the charm.

Within that structure there is plenty of room to keep direction and go where it needs to go, but in true indie-rock fashion it leaves the appearance that that is not that case, and that things just fall into place.

Staying true to form, they keep things rocking, but melodic, dishing out some clever pop nuggets underneath the fuzz and beats. And that is why The Jerks Win Again will maintain a long-lasting relationship with your CD player. It knows the indie-rock formula, almost too well, and does it better than most of its contemporaries. I'll give it a B.