Coheed and Cambria
In Keeping Secrets of Silent Earth: 3 (Equal Vision)
By: Alex Steininger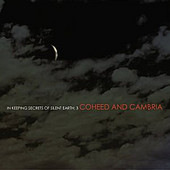 On their second record, In Keeping Secrets of Silent Earth: 3, Coheed and Cambria take emo, metal, and punk rock, gloss it up, make it highly palatable, and ultra poppy, then deliver it with plenty of energy and drive. Sonically rich and fist-pumping loud, the band knows how to make things as crushing as possible without losing their marketability.

Here is a record that the MTV generation can run to, a record that has all the street cred and coolness, along with the production values and hooks.

That's not a bad thing either, mind you. Because, much like a band like Green Day, who took punk to the mainstream with a sugary, easy-to-swallow formula, Coheed and Cambria take loud music -- metal even -- and make it so teeth-rotting good, you can't help but sing along and embrace their sound, even if their sound isn't your thing. And for that I give them props. I'll give it a B.