Mushroomhead
XIII (Universal Music)
By: Vinnie Apicella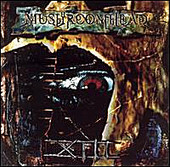 Among the more experimental and evasive bands to come out in a long time, Mushroomhead defies precept, particularly on their artfully blended blast of new age rage and aural exploration. Known as much for their outrageous attire and outlandish stage selling exploits, beneath there lurks a true musical talent inspired by the core elements that made bands like Faith No More and Paradise Lost such revisionist thinkers in their day, where garish imagery combines with grind-core fits and gothic grandeur revealing something mysterious, melodious, and altogether satisfying. "Kill Tomorrow" is an album opening rager wrought of pounding riffs and fast shifting fury; "Sun Doesn't Rise" begins stoically and ends up as a chart-shredding success story for the "Freddy vs. Jason" soundtrack taking FNM's "Epic" to ear-shattering extremes, while "Mother Machine Gun," is an anathema-like adventure opening softly and breaking through with a thick bass-beat and disturbing or "Disturbed" overtone if you like.

The band's dual vocalists of J Mann and Jeffrey Nothing are the perfect compliment of fluidity and angst, subtle and sharp, adding a unique twist and extra elemental depth to the tunes. "Nowhere To Go" is another successive highlight reel of a song, opening slowly, nearly tragically, only to emerge into a feverish if prodding Goth/Metal development with a lighter-flicker chorus. Throughout, "XIII" features a contemplative mix of mournful, maddening, and majestic tunes thematically spliced with the lifelong struggle for survival. "The Dream Is Over" and "The War Inside" are prime examples of pure aggression bolstered by a low-tuned guitar shred and screams of dread, while "Almost Gone" could be almost another band for its uplifting choral arrangement and its leather and chrome groove, while "Eternal" is a double-bass about face that again enters the ranks of Grindcore aided by industrial firepower.

Mushroomhead has emphatically attained the sonic singularity between the tracks they sought for. Too often, there are simply too many songs outlining one or two popular hits to even consider judging an album's worth as a whole. On "XIII" we end up with a clever, continually changing personality that runs from one extreme to another by utilizing sonically heavy elements with an ethereal fragility, creating something dark, demented and desperate yet dynamic and transcendental. Besides fulfilling the requirements of the group's core fans, "XIII" will inspire listeners from previously unexpected subgenres who quickly discover and embrace the band's awe-inspiring dark art.