SHOW REVIEW: Five To Midnight
An Australian Music Festival
By: Rebecca M. McNeill



A searing hot Brisbane day turned into a sweaty afternoon as we arrived at Southbank for the Five To Midnight festivities. Due to the fact that this was an all ages event and drinks would not be easily obtained during the show my friend and I headed straight for the restricted alcohol area and relaxed to the sights and sounds of the South Pacific Island Dance Group. There is something about going to an all ages event that adds to the excitement. Tonight's assembly of ten thousand or so supporters would be vastly of a younger generation which was great to see.

Punters were just beginning to gather around the stage to stake out their prime positions as local contingent Intercooler took to the stage. Fresh back from their first US tour and showing no signs of stopping the band began unleashing their polished wall of noise on the crowd in the fading afternoon sun. With gems like "Emo" and "Leaflet", these are songs of dynamic emotion and punch, relinquished amid a torrent of searing chords and seamless beat breakdowns. Skilful arrangements are only enhanced by Michael Caso's precise guitar work. Frontman Phil Ballantyne's voice is a force in itself oscillating between melodic explanation and that anguished last gasp. This band is just so tight and the end of their set sees the pack keyed up and ready for more.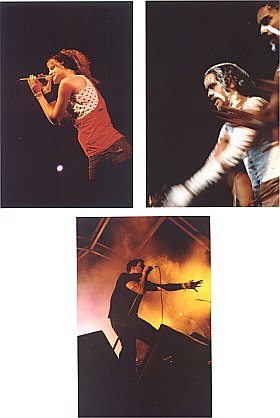 Local traditional Aboriginal dance company Jagera Jarjum were up next. A group of men, women and children about thirty strong, they performed stories of the dreaming through music, dance and drama. The accomplished group, who has travelled world wide educating communities on cultural identity, used rhythm sticks and a single didgeridoo to create their rich, atmospheric musical arrangement. The authentic storytelling experience was not lost on this audience who cheered throughout and clapped in time.
It was starting to get much darker by this time and the crowd was thickening out towards the edges in anticipation. There were more than just a few punters out there who were champing at the bit to see Canberra's newest emergents The Bumblebeez. Amid the chaos of smoke and multicoloured lights they burst onstage with their barrage of high energy angst. They are a furious fusion of hip-hop, rap and rock, and tonight The Bumblebeez were obviously keen to make waves amongst their overexcited audience. Proudly experimental, the band pumped out massive sound as Chris Colonna and his sister Vila paced around the stage like wildcats. Vigorous beats, and cut throat, caustic vocals made for a dizzying show leaving the crowd more than satisfied.
It was hard to ignore the number of The Butterfly Effect shirts being sported around the arena that night and so there was no surprise when they finally were up, the audience erupted in excited appreciation. Festivities began to feel a bit more serious as the heavy rock outfit let loose their intense tunes on their audience. Powerful, measured beats and big fat guitar riffs are characteristic of Brisbane locals The Butterfly Effect. Lead singer Clint Boge manages to use his voice as a powerful instrument, alternating between an aching melodic cry and that guttural roar. The first signs of moshing begin and the night really felt like heating up. And as the shirt says, no doubt many punters were left feeling 'effected'.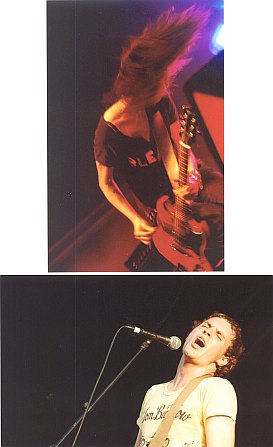 Now expectancy really began to build as the roadies did the set up for the next act. Patience soon paid off as Magic Dirt took to the stage with the mighty Adalita at the helm. There is something about this woman and her thunderous voice that is completely mesmerizing. The way she confidently throws her lean frame around the stage and rocks out is totally captivating and sexy. To my mind she is the archetypal rock goddess and no one can persuade me otherwise! As the band unleased gem after gem from their newest album "Tough Love" I was reminded again why I love this band. These are gritty song of pure passion and candour. The absolute highlight of the night for me was the despondent "Plastic Loveless Letters" delivered with the full force of an exhausted heart. On top of all this, Magic Dirt were gracious hosts and seemed truly humble in thanking the audience for their support.
And speaking of first-class hosts, 1200 Techniques are experts in engineering festivities! Right from the start they won the audience with their infectious enthusiasm and geniality. In no time they had full crowd participation willing the 10 thousand strong assembly to bounce along, sing along and get along. Pretty soon there is such a positive feeling sweeping though the horde that everything just sort of turns lovely and nice. People are smiling and being polite to each other, saying things like 'Hello,' and 'Excuse me'. I am willing to bet that even if the music was not to your taste, you couldn't help but love these guys just cos they're nice. Musically 1200 Techniques are sort of like the Beastie Boys minus the angst. Steady, repetitive beats and that big bass sound lay foundation to their rhyme based songs. Their unique fusion of hip hop, electronica, rap and rock infused with the odd sample makes for a highly energised performance. I strongly recommend that if you ever get the chance to see this band live you take it.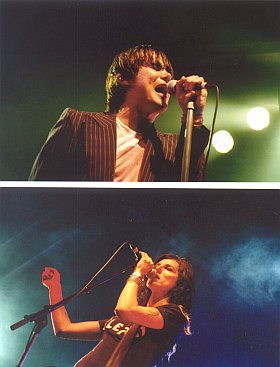 And now the tension really begins to kick in. By this stage there are ten thousand swarming sweaty bodies writhing with that feeling of anticipation, like we all know something awesome is about to happen. The most dedicated supporters are squashed against the barriers calling out alternately for Grinspoon and water. This is the moment many have waited all day for and they are soon rewarded as the amphitheatre explodes in a multi-coloured light and smoke show signifying the entrance of the main act. Grinspoon, winners of Triple J's Unearthed in 1995, are obviously well and truly accustomed to such receptions and their unique brand of pop rock is soon resonating across the forecourt. The multitude responds in elation now moshing in earnest and there is a fervent outbreak of crowd surfing, much to the dismay of security. This group have established themselves as an Indie influenced band that could please a wide variety of musical palates. Their distinctive mix of rock and roll sounds has allowed them to carve out a solid place in the Australian music scene. The boys ripped out all the crowd pleasers such as "Chemical Heart", "No Reason" and my personal favourite "Just Ace". There was even a moment when the crowd was briefly pacified by Phil Jamieson's solo spot in an acoustic ballad segment. Vocally, he is able to express a diversity of emotion ranging from powerful and dynamic to that disinterested Britpop twang that is so popular nowadays. They rocked on relentlessly until the stroke of midnight when in a frenzy of rockstar excitement, Phil smashed his microphone on the floor--frightfully cheaper than slamming your guitar into an amp I suppose, but still so rock and roll.
And so the swarm breaks apart as the cleaners move in and begin to clear away the evidence until next year. Eyes heavy, bodies achingly tired, we begin to wander homeward--our bellies full and contented by the satisfying musical meal we have just feasted on together.