SHOW REVIEW: Brian Jonestown Massacre w/ The High Dials and 20 Miles
The Silver Dollar - November 18, 2003 (Toronto, Canada)
By: Nick Mlatchkov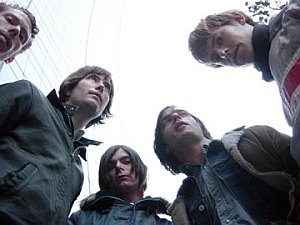 The triple bill presented by local promoter Dan Burke at Toronto's premier blues club the Silver Dollar went along below expectations. Little Steven's favorite Canadian band the High Dials were first, stiff and pressured to keep up with the hype. They began chaotic, especially the singer Trevor Anderson who struggled within his vocal range. Luckily drummer Robb Surridge kept up the pace under control and soon bassist Rishi Dhir followed him up as they run through songs from the highly successful "The New Devotion" album. Seeing their confusion BJM' s Anton Newcomb grabbed a chair and sat in beside the stage. Encouraged by his gesture the band began playing more psychedelic tunes thus exposing a new face. It fitted them well. Anton got on stage 2 times praising the Dials as the best band in the world let alone Canada! In answer, he got some ironic smiles.

Next were 20 Miles, solo outlet of Jon Spencer Blues Exploxion's Judah Bauer. They had a new drummer of 4 months who'd perfectly replaced Judah's brother with tenacious drumming. Bauer was confident in presenting his bluesy material and now the almost crowded venue reacted with visible satisfaction. Noticeable were hippie chicks swallowing the music hungrily while some guys sat backwards waiting for BJM.

By the time they slowly appeared the anticipation had peaked. Anton sporting his Vox guitar and usually long hair sang sidewards to the mic and his lyrics were somewhat hard to comprehend. Tommy Dietrick played his Rickenbacher bass overly concentrated. Frankie Teardrop exposed delicate technique with the 12-String guitar, its body in the form of citar. Drummer Dan Allaire was right on the spot and newcomer Rick Maymi added some well-groomed licks. It seems as if they try to emulate Moby Grape not only musically but also in personnel walk offs and rough days. Playing "Going To Hell" was a highlight. Along the line Newcomb muttered and contentiously challenged the soundman. Then he literally threw the propriety to the winds causing an intermission in a devil-may-care attitude with expressions such as"you suck", "I don't give a fuck" and "I'll stay here all night". They almost did it playing up 'til 2:35 am. Towards the end Newcomb demonstrated a long feedback placing his guitar backwards onto the Fender amp. The effect was astounding which made of a great finale.