INTERVIEW: Sponge
Platinum-selling hard rock band discusses being on indie label (Idol Records)
By: Alex Steininger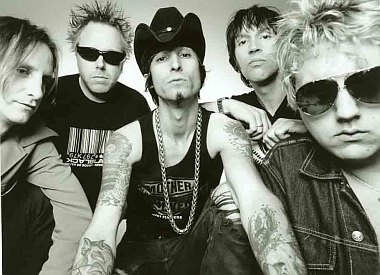 In 1995, it seemed anything from Sponge was gold -- even platinum -- with their debut album, 1994's Rotting Pinata selling over 1 million copies, propelled by the larger-than-life singles, "Plowed" and "Molly".

The Detroit-based rock band was experiencing it all -- bus tours, MTV stardom, sold out shows.

Rotting Pinata 's follow-up, 1996's Wax Ecstatic failed to capture the MTV and corporate radio heads' attention like the debut, and Sponge soon found themselves at a crossroads.

"Our A&R guy at Columbia said we could take the reels for $80,000.00 and walk or get outside writers and stay on the label," recalls front man Vinnie Dombrowski on why Sponge departed from Columbia. "The rest of the band was against getting outside writers. I mean, publishing is where we make all our money, and that would rob us of our publishing. So we walked."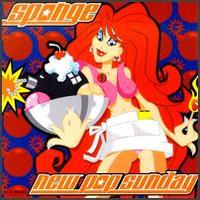 Signing to a new label, Beyond, who purchased the reels for $80,000.00 from Columbia, Sponge released their third full-length, New Pop Sunday in the spring of 1999. But, their label woes would follow them to Beyond.
"They thought things were going to be a walk-in-the-park for them when they signed us," Dombrowski says, discussing Beyond and Sponge's subsequent troubles with them. "But, what they didn't realize was, that anything Sponge ever did, we had to tour our asses off to get recognition. They didn't get us out on the road as much as they should have. And when we were on the road, they dropped the support."
The band, not visibly phased by their bad fortune, just kept going. They said goodbye to Beyond and went out on their own, touring to earn money to enter the studio, recording, touring some more, and entering the studio again -- until they finished an EP, For All The Drugs in the World, which was only sold at shows and on their web site.
"It was like running full blast into a dark room," Dombrowski says of recording with no label to put out the final product. "We'd go on the road, get money, go out on the road some more, and get more money. Then we'd go into the studio and record another record. But it was a hard record to make. Nobody had any idea of how we were going to do it, or who was going to put it out. Then Irv [owner of the Dallas-based Idol Records] and Idol came in and helped us with mixing and mastering costs. We'd known Irv for awhile. He worked at Columbia when we were on Columbia."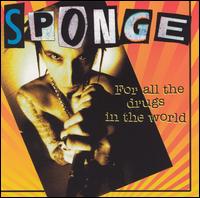 Even with a label now on board, the record that would end up being For All The Drugs in the World (the EP plus new songs, making it a full-length), wasn't an easy record for the band to make.
"This record was a motherfucker because I went through a divorce while making this record," Dombrowski shares with me.
"I went through rehab in 1997. Right after rehab, I got back on the road and started touring. I hadn't had a drink in five years. I spent five years not drinking," he continues. "Then with the stresses of the divorce and making the new record, I started drinking as things were changing."
Despite the personal set backs, Dombrowski and company (sans The Cross Brothers -- Tim on bass and Mike on guitars -- who left because they would "never do another van tour again," according to Dombrowski) forged ahead, finished For All The Drugs in the World, and saw its release.
Following the album's release in the fall of 2003, the band did what they do best: hit the road, tour, and continued playing loud rock 'n' roll.
"It's about not taking buses and sharing hotels," responds Dombrowski when asked how the band tours now. "We tour in a standard van. That's how we keep it going and keep doing it full-time."
The fruit of the band's labor have certainly paid off with their best record-to-date, a solid collection of twelve songs that span the gamut from their punch-drunk/heart-on-the-sleeve laments through the fierce arena rock that helped them garner MTV hits, through their softer, quieter material.
"This feels like the best Sponge record to date," beams Dombrowski. "It's consistently diverse like all Sponge records are. I love the rock songs a lot, but I also love writing slower songs."
"We did some special things with the recording process," adds Dombrowski. "We stripped it down, went with live tracks, and only did a few guitar tracks to begin with. The guitars are sparse, but it is still in-your-face. Plus, the vocals are loud. It's a lot simpler than any other Sponge record. It is more of an artistic thing. Our other records are layered and dense. This record, however, was all about finding the right performances instead of layering and layering it on later."
The band's plan now is to just stay out on the road as much as possible.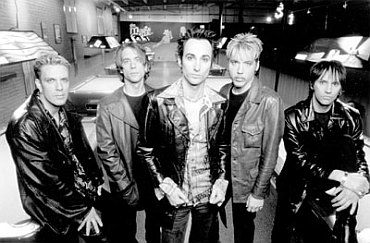 "We end up going out as much as possible, playing as many consecutive dates as we can, and then going back home," shares Dombrowski. "Sometimes we're playing 300 seat clubs and other times we play radio shows like the one we played in Louisville and there are 10,000 kids there. We do a lot of new stuff, but of course, we do the old stuff, too. A lot of people will come to the shows, hear the tunes, have never heard of us, and then they recognize the songs. A lot of new people are definitely coming out. We're caroling new fans, which is cool."
What amazes Dombrowski the most, however, is that they still have a large amount of supporters at modern rock radio.
"It's an interesting time," he admits. "We seemed to retain some allies at radio. We're out there doing things in a timely way. We can go out there and play those gigs, the radio shows, and go to these radio stations that supported the band in the past. Then, choose a single off our new record, give it to them, and hope they support it. Sometimes they will, and sometimes they won't."
In between tours, the band is working on writing and recording new material, possibly the follow-up to For All the Drugs in the World.
"We're going to put something out soon. It could be an EP or a full-length. I just finished, like a month ago, a song called 'For All the Drugs in the World'. It was written after the record was finished. But, I want to get the song out there now," he informs me.
Leaving me with one final thought, Dombrowski makes it clear he is here to stay and whether or not radio embraces him or his band continues to pack clubs, he'll still be making music.
"I have no reason to stop. I just keep going. If people weren't coming out, I'd play someone's basement."