INTERVIEW: My Twilight Pilot
Texas' indie rock threat talks about their new album (Feel Records)
By: Alex Steininger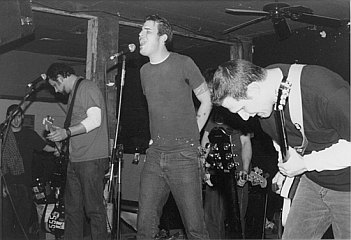 "We like to think of our songs as soundtrack music," says MYTWILIGHTPILOT guitarist Matthew Jackson. "Not in the sense that it's 'music you hear while the end credits are rolling', but rather music that tells an entire story in and of itself. Music that describes and recounts your daily goings-on and all the emotional peaks, valleys, lulls, and states of confusion that occur throughout."

Soundtrack music couldn't be a more apt description for the more than 30-minutes length spread out over a mere 4 songs on the band's debut EP, 555, released on the New York-based Feel Records.

A weaving, sprawling record of space and atmosphere, noise and power, the record travels through peaks and valleys, hitting thundering highs before dropping down and crashing, picking back up and taking you on the unexpected rollercoaster track after track.

MYTWILIGHTPILOT, a quartet based in Pasadena, Texas, a suburb of Houston, contribute these seemingly-schizophrenic tendencies to their hometown, a town best known as the focal point of the 1980 John Travolta film, Urban Cowboy.

"It's an odd place to grow up, to say the least," remarks Jackson.

"I think the chemical-induced, dirty, sprawling bleakness of Pasadena, coupled with its detachment from the larger, more metropolitan Houston, served as some sort of anesthetized buffer zone for us: Mile after countless mile of dark, tangled, and towering spires of the aging refinery plants. Endless rows of dirty, flaming, billowing smokestacks [that], after dark, glow and light up the sky for miles. . .," he explains, before pausing.

"It's eerily beautiful," he continues. "Continuously inhaling and gagging at the perennial methanol fumes. It's just so otherworldly that, after a while, it's hard not to be inspired or influenced by it, especially since eventually you just learn to accept it as normal."

It is this acceptance of "normal" (after all, what exactly is "normal"?), that has allowed MYTWILIGHTPILOT to successfully employ their greatest weapon, their ability to forgo the verse-chorus-verse structure of traditional pop music and examine their own inner thoughts and demons through music that, regardless of it being "three and a half minutes or three and a half hours", the band has no problem going for it.

"I think that 555 plays to one of our main strengths as songwriters, our ability to strategically forego the typical verse-chorus-verse structure and explore more of the segue ways, transitions, and textures of our songs, without ever lapsing into unnecessary wanking or filler," says Jackson, defending the songs' length.

"As a result," he further explains, "the majority of our songs are about 7-8 minutes long on average. This was one of the main reasons we originally decided that only four tracks would be appropriate for the record. We didn't want to wear anyone out. We wanted to take the audience on a brief whirlwind roller coaster ride of emotions, but we definitely didn't want them to live in that space. So the decision was made early on that we should keep the record short and sweet, relatively. And I think we accomplished that, and Feel [Records] has been very respectful and supportive of our decisions the entire way."

Support from a label is crucial, especially for a band like MYTWILIGHTPILOT, who admit to being "fairly longwinded when given the opportunity", a tough sell for a label, especially for a new band without a name for themselves outside their region. But, given the opportunity, the band has proven to their label that they made the right choice, delivering an exciting record that changes the minute you think you know what to expect next.

Jackson goes on to explain the band's songwriting process to me. Much like each of the four songs on the record, which vary dramatically and drastically from each other, while still sounding familiar and complimentary, MYTWILIGHTPILOT'S way of writing a song differs with each mood.

"It can be a painful, lengthy, and arduous process for us," he confesses. "But we like to think of ourselves as fairly musically 'literate', so we take great pride in our ability to manipulate and take liberties with the songwriting process.

"Sometimes we'll discuss a song's topical subject matter or its overall structure before writing a note of the music, and then we'll draw a roadmap for where we'd like it to go. Sometimes we'll assemble songs together from totally disparate and unrelated 4-track sessions taken from weeks' worth of previous practices. Then we'll stitch the wholly unrelated pieces together like a quilt, just to see what will result. [Other times] we'll improvise or experiment for hours on end just to come up with a brief 10 seconds of material that we're happy with. Then we'll keep that, toss the rest, and start over.

"For the most part, our songwriting is pretty spontaneous, with parts getting rewritten or fleshed out with each repeated iteration. It's a never ending process. We're constantly rewriting, and we like to toy with and experiment with our songs, just to see how we can corrupt them next. But really, no two of our songs have been written the same way."

"I think it helps that we were all born with terribly short attention spans," he says, realizing the irony in what he is saying. "Which is, in itself, a strange coincidence for this band".

With a lot of their reviews referencing the word 'atmosphere', I ask Jackson what kind of atmosphere their music is trying to create. His response is quick and witty, the humor a large, unspoken part of the band.

"Love, sweet, sweet love," is his response. Followed by, "That or heroin withdrawals, your choice."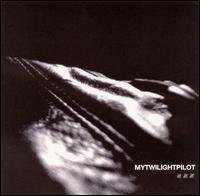 The band has been together for a little over a year, an impressive feat considering the tightness and way each other plays off the rest of the band on 555.
"It seems like a complete copout of an explanation, but I think that MYTWILIGHTPILOT is probably the closest thing to 'instant chemistry' that we've ever experienced. It's so strange, but everyone's personalities and musical pretensions just seem to so perfectly mesh, that after just a small handful of practices it felt like we'd known each other for years," is what Jackson chalks it up to. "It was unnatural, but at the same time it felt strangely familiar to all of us. I think that musically (and as friends) we're pretty much just cut from the same cloth. And that cloth is drenched in alcohol, smells like cigarettes, and is the darkest shade of periwinkle you've ever seen."
The band is currently waiting on Jackson to heal from a broken knee. But once he reaches full recovery, the band plans to tour their Southwest region, and possibly do a Midwest tour, entering Canada as well. In the mean time, check out 555 on Feel Records and get familiar with it, because the band promises a live show that is "quite a bit louder", with a lot more improvising and experimentation than on the record.