INTERVIEW: Gerald Collier
One of the most underrated singer-songwriters (Isota Records)
By: Alex Steininger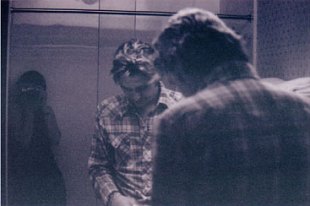 Austin-by-way-of-Seattle-by-way-of-Arizona singer-songwriter Gerald Collier has seen his ups and downs in the music industry.

During the early 90s signing spree of Northwest rock acts, and more specifically any band associated with Sub Pop, Seattle's premiere independent label, Collier's band, The Best Kissers in the World, were picked up by MCA Recordings following the release of their self-titled, debut EP on Sub Pop.

Following the band signing to MCA, the Puddin' EP was released, quickly followed by the band's debut full-length, Been There.

With constant touring, yet little support from the label, and the record's failure to produce a hit, the band went into the studio to record their sophomore full-length, Yellow Brick Roadkill.

The record was completed, mastered, and promos sent out to press and radio. But, before the record would see a commercial release, the band was dropped from MCA and soon disbanded.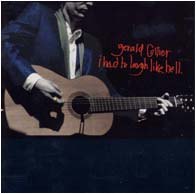 This led Collier to produce his primarily acoustic, country-tinged, sparse (and ostensibly dark) solo debut, I Had To Laugh Like Hell, released in 1996 on Seattle-based indie C/Z Records.
Creating a buzz throughout the industry, Revolution Records soon bought Collier's contract from C/Z Records and released his self-titled full-length, which included a handful of songs from I Had To Laugh Like Hell re-recorded with a full band.
Described by Collier as "Pink Floyd as a country band", and including the Pink Floyd cover "Fearless", the self-titled record failed to produce a hit due to the label's uncertainty and inability to make a concise decision, preferring to allow things to linger until the record had run its course.
"I think they were afraid to offend me," Collier tells me. "They wanted to release 'Fearless' as a single but thought I would get mad because they were releasing a cover song as a single. And by the time they asked, it was too late".
The label, however, hadn't given up on Collier. Calling him into their offices, the label had set out to discuss the self-titled album's follow-up. However, when Collier started talking about wanting to record a country record, "the label couldn't whip out the checkbook faster and sent me on my way", jokes Collier.
Without a label, Collier's manager and friend Danny Bland, along with his other client, The Supersuckers' Eddie Spaghetti, formed Aces & Eights, a label set up to release The Supersuckers and Collier's records.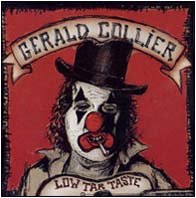 The result was 1999's Low Tar Taste EP, which found Collier headfirst into country.
Following the record's release, Collier toured relentlessly, before recording what is now known as the "unreleased country record". Sitting down with Bland, Collier decided it would be best to not be signed to the label; Bland then went shopping for a new label for Collier.
Coming up empty, Collier shelved the country record and called it quits, going on an extended hiatus.
"There is only a certain amount of disappointment a person can put up with," he explains. "So, it wasn't that I didn't want to write songs or put out records, but nobody wanted to do it with me. There was nothing in Seattle or the NW that I wanted to be a part of. I played with everyone I wanted to play with and there were no up and comers that wanted to work with me."
But, music is in his blood, and he couldn't stay away for too long.
Forming a new band with fellow Best Kissers in the World member Dave Swafford (bass), and including drummer Tom Nurse, an alt-country rock 'n' roll band, Deer Whistle was born. This ended Collier's two and a half year hiatus, forming the band in the summer of 2001.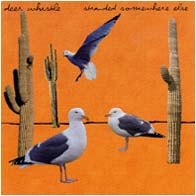 But, by the summer of 2002, the band released their debut EP, Stranded Somewhere Else, and only a few short months later, in the fall, the band had broken up. Collier once again went on hiatus.
"It was one hell of a realization to know that we were having so much fun but wouldn't last very long," laments Collier. "Everyone had good jobs. I was the only one tending bar like an idiot. There was only so much everyone was going to give up for the band. So, I decided to just get married and be married for a few years before I got back in the game."
Ready to leave Seattle, Collier and his wife set their eyes on Austin, TX. But, just before moving, an opportunity would fall into Collier's lap.
"My friends from Seattle were on tour and someone picked up a used Kissers record and said, 'We gotta tell Gerald about this. It's getting bad for the old man'," recalls Collier on how he would soon get in touch with his soon-to-be new home, San Francisco's Isota Recordings, ran by Joseph Finland. "And Joseph overheard them and said, 'You know Gerald? Can you give him my number and have him call me?'"
Collier and Finland corresponded, with Collier sending Finland a lot of unreleased material. Finland liked the songs, but didn't like the treatment of the songs. Agreeing to put out Collier's next record, he offered to have Collier fly down to San Francisco and record a record for Isota. Collier got on a plane. Finland hired backing musicians that Collier had never worked with before. They entered the studio, and Collier's third full-length album, Breakin' Down would soon be conceived.
"It was a blitz keg 3-day session with musicians I had never played with before. It turned out as well as anyone could have hoped for. I'm happy with it," Collier says of the experience. "I flew down to San Francisco. We were finished three days later. I tracked all the songs in the first twelve hours I was there. It went by fast."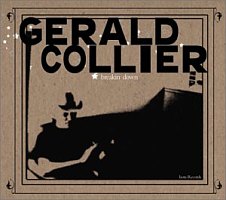 Re-recording "Pure Lonely" from the "unreleased country record", and using a song he had written previously, "Long Distance Nashville", the remainder of the record Collier either wrote or finished pieces of songs lying around especially for this record.
Now that the record is out (released in October 2003), Collier's plans are up in the air.
"For me to do another U.S. tour now would be oxymoronic for now," he says of touring possibilities.
"I'm not writing or pursuing shows at any fever pace," he continues. "But I better get on the stick. Because I expect to record another record in a few months; Isota is certainly expecting a new record. Because they put out electronic and underground stuff, I'm a lot different than anything else they have. So to put me out, it takes a lot of lead time. From the time it took me to join the label, and then record the record, the record was recorded seven months ago and just came out in October."
However, Collier does entertain the notion of going to Europe to tour. "Isota does really well in Europe," he shares with me. "They have a lot going for them in Europe. I'd much rather tour Europe than the U.S."
With his sense of humor still alive, Collier tells me that "I've confused people with every release. I Had To Laugh Like Hell was a major curveball and Deer Whistle was a curve ball, too. I'm not sure why it was, but it was. People come to expect it now from me. I keep telling Joseph to expect a reggae record in two years. Not that Breakin' Down was anything different from anything I've done in seven years."