Canada Calling! With Your Host, Bruce "e-Mole" Mowat
This Month's Topic: What's Hot In A Cold Country?
By: Bruce Mowat



In the 1968 Mike Nichols film, The Graduate, an old fart advises Dustin Hoffman that his future may very well be in "plastics."

As it turns out, the old fart's advice was correct, at least in this country.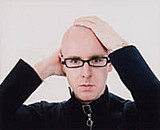 Richie Hawtin a/k/a Plastikman has been this country's major techno producer for the past decade or so. The Plus8 label, is home to his own works, as well as those early, influential Detroit-area recordings (Hawtin lives/lived ? across the bridge in Windsor) , many of which were recently compiled on a double CD covering the years 1990-1997. There are samples of his work on the web-site, but BEWARE -- the site takes awhile to download if you don't have high-speed internet access. Then again, what did you expect from technocrats?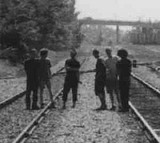 And then again, there many are people in this country who worship at the moodist, instrumental altar of godspeed you black emperor & the many off-shoots of same. I am not one of those people, but interested parties should point their mice to: http://www.brainwashed.com/godspeed/news.html.
On the plus side: no annoying vocals --EVER, you can view the web site in a quick n' easy n' painless manner on a public access computer, they seem to keep the site updated, and there's low-fi samples to give you an idea of what all the fuss is about. They also come from Montreal, which is, sub-culturally speaking, a helluva lot better place to be than Moron-to. They also rarely do interviews, which automatically make them smarter in my book than most of the people on this page.
Side/solo projects include: silver mt. zion memorial orchestra & tra-la-la band (with choir), set fire to flames, molasses, et cetera, et cetera, et al.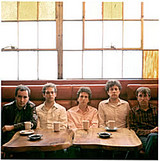 Moderne-day rawk fans in this country tend to gravitate to the output of the Three Gut label. That would be the home of the Constantines, & Guelph, Ontario ex-patriates Royal City (who remind me of the Violent Femmes -- and I'm not a VF fan!). Oshawa's Cuff The Duke (nice peeps, gave me a lift to Toronto during my three-week exile in THAT GAWDFORSAKEN city) Gentlemen Reg, and Jim Guthrie, round out the label's roster. The latter dudes latest recording, Now, More than Ever, is the most recent offering from the label (like, about three days ago from when I wrote this). Sample quotes say things like "angelic, late night confessionals." Audio samples of Mr. Guthrie are to be had by clicking on the cover -- write back to me and tell me what it sounds like to you! Best answer wins an authentic Tim Horton ? doughnut!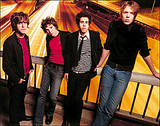 Victoria's Hot Hot Heat were destined (designed?) to be indie!stars! from the git-go. Judging by the plethora of industry support staff credited on their page, I'd say they're looking to be major-label dudes, soon enough. The name alone suggests hyper-kineticism, and judging by the bit o' sound that my computer coughed up UNPROMPTED, the sound matches the name. Hey, the group is on Sub Pop [Ed: They are now on Warner Bros.], which means you can probably buy its recordings EVEN in Portland. The web-site features "audio and video clips, pictures, show info, and more about the Canadian band combining '60s mod rock, '70s prog and '80s new wave/punk". They mention The Beatles, The Stones, and punk rock. Well, at least they jump around a lot. Tickets for their recent show in Hamilton, Ontario were hot, hot potato items indeed, according to Miss Julie of Flux A.D., who works at Dr. Disc in Hamilton.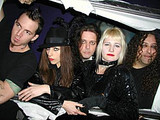 The only thing I actually physically received was Turbulence, the long-awaited debut CD from Poisoned Aeros.
It took three years and as many guitarists to create the 11 songs on this disc, but it still sounds like that good ol' chugga-chugga whomp whomp tah me. Chunky, proto-punky guitars played by chunky guitarists, with some Glam affectations on the part of Buckshot BeBee and Rosemarinus, the femme singers, but don't be fooled: it's not all toffee n'tea. Specifically, Picture This, deals with domestic abuse, a hot potato topic I doubt any of the above "artistes" could handle without sounding even more contrived than they already are. (Well, maybe gybe, but it would be an instrumental.) The closing rendition of the New York Dolls, Puss N' Boots., features one of the last living Dolls, Syl Sylvain hisself on guitars. Listen to this holiday season for reactionary words & music by Syl, the She-Wolves and The Aeros.

Hey, this Internet thing is great-- I can write about bands without talking to them, getting on guest lists, mailing lists, telemarketing lists. So DON'T bother sending me stuff, unless yr 1) from the Province Du Quebec, and are tired of reading about Anglo chien groups 2) you genuinely appreciate the music of Jandek or 3) you plan to be playing the Victoriaville festival this summer. In which case write me: #3 431 Barton Street East, Hamilton , Ontario, L8L 2Y5. If I'm not here to review them, I'll pass the CDs on to my successor, promise.
"Angelic, late confessions". Hey, I like Nick Drake, too, but "Now, More than Ever", we need the likes of that pop-killing machine known as Shallow North Dakota. A trio heavy enough to be worthy of Japanese kudos. I might thrown in some words about Luxury Flats, too--