Various Artists
Unquiet Grave Vol.4 [2-CD digipak] (Cleopatra)
By: Jett Black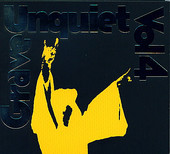 For newcomers to the scene, be forwarned that NO one set may definitively encompass the whole mouthwatering Underground music pie. CLEOPATRA makes bold strides to dish out the best cross-sectional representation with each new Various Artists music compilation unleashed. Now, inside the Unquiet Grave Vol.4 (2CD digipak), you can score 38 tracks assembled together in a personalised mix-tape fashion and thereby consume two delicious slices of what success in the new music underground must taste like to a knowledgeable connoisseur of gothic, ethereal, goth metal, and the darker side of electro-pop.

In an attempt to characterise the compiled content, Jason Myers (who provides the personalised liner notations for each artist's track appearing in this collection) delivers poignant insight into why each track was selected for this compilation, and a bit of detailed info about the artists themselves from his own unique perspective.

Disc one, or Side A as it were, flaunts the title of the "Bitter Side".
Disc two (Side B) becomes known as the "Sweet Side".

Let's examine more closely now...

the "Bitter Side"

It's a wonder how TIAMAT may have landed on the "Bitter Side" with their well-known/well-loved favourite, "Vote For Love". SWITCHBLADE SYMPHONY swings in on the broken wings of fallen angels for a LIVE version of "Novocaine". LACUNA COIL swells our hearts' desires with "The Ghost Woman and The Hunter". AUDRA saunter into the darkened sanctuary dance floor singing the tale of the "Cabaret Fortune Teller". RAZED IN BLACK kick on the sweat machine and re-position the strobe-light remix highlight: "Am I 2 Blame (Soil & Eclipse Mix). Another favourite takes form in CELLDWELLER with one of the hottest dance floor hits of 2003: "Frozen". If this is a slice of Bitterness, then by all means, allow me to help myself to second-servings!

the "Sweet Side"

Opens with the haunting tranquility of PETER ULRICH, quickly transitioning to the complementary darkwave stylings of BLACK TAPE FOR A BLUE GIRL with "All My Lovers". DREAMSIDE swoons in next with Faery Child (Cruxshadows Mix). In Medias Res... GARY NUMAN fans will focus keenly upon his inclusion with "Absolution". Shoegazer/astral goth-pop rises to the top layer with "The Last Day In June" by HONEY TO ASH . The Kreepy Az F*ck award goes to THE LVRS for their inclusion with "The Sum of Her Parts" (Not for the faint-at-heart). Overall, this side chills the fire down to slowly burning embers compelling the swirly goth inside to dance out and play a while.

Detailed artist reviews by Jason Myers, photos & cd cover art for bands appearing on the 2CD set, plus current website listings for each artist layer the cream atop the whole pie. Get it while it's HOT!