Tactical Sekt
Burn Process (Noitekk)
By: DJ Kreepy Krawly of Club Illuminati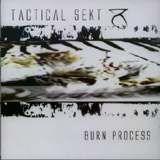 TACTICAL SEKT, baby of Ant Mather, one half of British EBM pioneers ASLAN FACTION is back! For those of you who don't know TACTICAL SEKT, be warned, you better get yourselves friendly with the TACTICAL SEKT brand of Harsh EBM/Industrial because these boys are here to stay, and they are one mean motherfucker of a band.

The first TACTICAL SEKT album, Geneticide, was a mixed up hybrid of a record. Somewhere between Harsh EBM and Technoid Dance it was a band in its infancy. Exploring new possibilities, Ant Mather had one eye squarely aimed at the dancefloor, but didn't quite know how to set it alight. It took a helping from his close friend Johan Van Roy from Suicide Commando to really set the dancfloor on Fire, the track was Damage Limitation, and boy did it rock.

But that's all history now, back from a European Tour with Suicide Commando and Interlace, Ant and TACTICAL SEKT are all grown up now, and it shows in their new EP BURN PROCESS! This is a mature, and at times fantastic EP, and at 73 minutes duration it's one heck of an "EP"!

I was very disappointed with the new Suicide Commando album. I like it, because I like Suicide Commando, but it is not a genre defining album, as I'd expect from Johan Van Roy. There was nothing new, no fresh spark to take Harsh EBM to the next level, no new life, frankly it wasn't up to scratch. If it was anyone else it'd be great but this was Suicide Commando, we expected so much more.

But before we despair. Don't worry. Because Ant Mather has taken up the torch carried so long by Suicide Commando and taken off where his close friend left off.

Let's not beat around the bush, I am mightily impressed with BURN PROCESS. It is a Harsh EBM epic. It will become a classic. It is a genre defining EP, almost perfect, but perfectly flawed. Don't get me wrong, there are areas for development and improvement, but no-one out there right now is producing consistently good Hard and Dark EBM quite like TACTICAL SEKT.

Style? Harsh EBM at its very finest. Think Suicide Commando with attitude and dancefloor beats. In your face EBM. Distorted vocals (still too low in the mix Ant!) that were why you got into EBM in the first place! High on pounding beats, low on futurepop style sing along choruses (thank god!) this is music to kill to. The film and TV sampling is second to none creating a soundtrack to a very disturbed soul!

Content? - 07 original tracks All good, but the Devil's work stands out as an obvious dancefloor filler... 05 remixes all of a high standard, one to die for, by surprise, surprise our old Friends at :SITD:...

Highlights?:

05. The Devils Work

What a fabulous sample - from Luc Besson's Joan Of Arc I think - it opens the track, and then in come the full on blasts of the bass line and the bone crunching, stomping beats. Music to scream, writhe, dance and fuck to... this is pure unadulterated HARSH EBM - go on boy. BANG YOUR HEAD!

04. Forgot to Be Human

I'm picking this one out because it doesn't follow the usual TACTICAL SEKT formula. Ant's voice is differently treated, it has a Hocico meets Mentallo and the Fixer sound, and I really like it. I pick up on this because if TACTICAL SEKT is to really be a genre definer and market leader, it really needs to follow these experiments in sound and see where it takes it. It could be the start of something beautiful.

11. Xfixiation - hellfire mix by :SITD:

Fuck me! Sorry, excuse my lanuguage. But this is shit hot. Serious EBM not for the faint hearted. Already a major Club Hit in Germany, let me tell you, if you don't have this tune in your collection, you'll regret it for the rest of your life. It has everything a classic Dancefloor tune needs. Beats that make your ears bleed, the break down and the killer synth melody line, the :SITD: trademark syncopated Hi-hat, Ant Mather screaming of Xfixiation at you. Wooah! This is a monster of a tune. Total Industrial Mayhem!

And finally? Ant Mather can be really proud of what he has achieved over a small amount of time. Let's not forget that TACTICAL SEKT was just a side-project of ASLAN FACTION, a bit of fun on the side.. But trust me, this is no poor relation. TACTICAL SEKT is quickly becoming a leader in the Harsh EBM field. I hope the growth and maturation of TACTICAL SEKT's sound continues, I feel that there is even more potential in the bank. A little more experimentation, belief in his own voice so its higher in the mix, some new sounds to make TACTICAL SEKT stand out from the crowd.. I believe they can do it, all Ant needs to do is to dig a little deeper into the Creative reserves and I reckon there's a new Genre defining album.. just a short distance away. I hope he gets there, because God Knows we need it!

BURN PROCESS Rating? - Must buy EP, DJ essential.

This album sounds Like? - Suicide Commando at their finest, :wumpscut: (but harder and faster), Grendel, ASLAN FACTION (only better!)

File under - Kick arse Industrial.