Glossary
How We Handle Our Midnights (Undertow Music)
By: Alex Steininger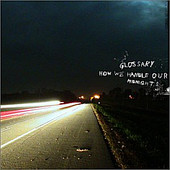 On their third full-length, and first for Undertow Music, the Murfreesboro, TN-based quintet Glossary fuse indie-rock with Neil Young, fuzzy pop with country, ensuring How We Handle Our Midnights is rustic and roots-y, though still caters to the indie rock kids.

From the country-tinged "Hold Me Down", through the fuzzy Southern rock of "At Midnight", or the indie-pop of "Golden Noises", Glossary has no problem switching between genres and managing consistency and quality.

Their style is breezy and loose, but that doesn't mean they can't rock -- or pull at your heartstrings. How We Handle Our Midnights is a joyous jaunt for any music fan, capturing the strengths of each style they attempt, and pulling it off with a smile. I'll give it a B+.