Gerald Collier
Breakin' Down (Isota Records)
By: Alex Steininger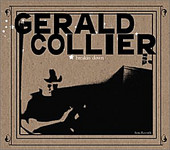 Gerald Collier has never failed to amaze me with each of his releases. From his debut solo record, I Had To Laugh Like Hell (C/Z Records), a sparse, sad sack solo acoustic record (the best kind). Through the hook-laden, Pink Floyd-meets-country-pop of his self-titled record, and through his foray into traditional country on Low Tar Taste. Collier has stood out as a moving singer-songwriter with lyrics that make you want to cry, and a Whiskey-smooth voice that is as compelling as it is charming.

I would go so far as to say that Collier is one of the most underrated songwriters out there. Regardless of genre, Collier is a class act, top-notch songwriter who manages to capture pain, tragedy, heartache, and resilience.

His latest, Breakin' Down, his first record in four years, is as astonishing as his previous releases -- if not more.

From the fun, country-frolic of "Where's Mine (Seem's Like Everybody's Taking Pills)", to the dark, country-rock opener of "Pure Lonely". The album instantly captures your attention with the line, "I was up thinking to myself last night, how much better I'd be if I would have shot her on sight, how much warmer I'd be between my sheets with the blood of her body washed all over me". Collier sets the standard and then exceeds them at every turn.

The airy, reminiscent vibe of the slow indie-folk-country number "Long Distance Nashville" finds you nestled up to your stereo, trying to console Collier as he laments about girlfriend who screws around on him while he's away.

"You Stand Before Me Crying" is the aftermath of a relationship, a casual song (just Collier and his electric guitar) that states "My heart's done all its breaking, all the breaking it's gonna do". With his smooth voice and worn, been-through-it-all attitude, Collier stands up for himself and tells his ex "this is how it's gonna be with you by my side".

However, the record isn't all heartbreak and heartache.

"Mexican Breeze" is a bouncy, country number you can dance to. The romantic pedal steel filling the song with love while Collier's lyrics start you thinking and his voice makes you daydream. "If one thing is true, it will feel good to leave, with a bag on your shoulder, and nothing up your sleeve", he sings. And all you can think about is getting out of the office, grabbing the one you love, and taking a nice trip to clear your head.

The album also ends with a positive spin. "I Don't Cry Anymore" is a love song, a stripped down, uninhibited piece that proclaims "since you've come to me, I feel differently, and I don't cry anymore". Collier is singing (most likely to his wife) to reinforce himself, his lover, and his audience, that despite the heartache and pain, he found his true love and everything is back the way it should be. The scars have healed, and life moves on.

Breakin' Down weaves and sways between traditional country, pop, and even straight-ahead rock ("Someday Never Comes"). It's a fine record, well worth the four years we had to wait for it. I'll give it an A+.