Sam Bisbee (and his incredible band)
Live at Arlene Grocery (Digital Club Network)
By: Alex Steininger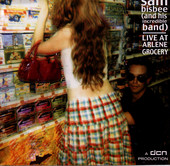 It's the standard story that happens far too often. Musician signs deal (development deal) with label, gets put on the back burner, then signs to another label to record demos, and yet nothing ever comes out of it, and artist is put on hold, unable to do anything while under said development deal.

This happened to Sam Bisbee, but after finally completing an album, 1996's Snacks, recorded for Plump Records, and forgotten almost immediately after its release, Bisbee took things into his own hands and resurfaced with the release of 2001's Vehicle (Terrible Records).

Following up Vehicle with a live album, the Digital Club Network release of Live at Arlene Grocery showcases Bisbee's pop-rock smarts and lyricism. Bisbee offers up everything from lush, keyboard-soaked pop to bouncy rock 'n' roll, and through hook-laden, jangle-y numbers, or straight ahead rock 'n' roll to boot.

With a steady voice and lyrics to sing, as well as a strong band backing him up, Bisbee delivers pop smarts and well-crafted hooks in a semi-tight, but loose enough to leave room to breath package. Live at Arlene Grocery showcases all of these things - and more. I'll give it a B.