Pure Joy
Gelatin and Bright (Book Records)
By: Alex Steininger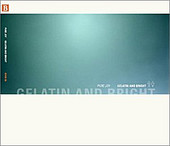 Thirteen new power-pop tunes from Seattle's (almost) longest running power-pop act Pure Joy, front man Rusty Willoughby and co-horts (Kurt Bloch, Jim Hunnicut, and Lisa King) give Book Records (Seattle's power-pop collective label) and fans a tasty, hook-laden, bouncy treat.

In all fairness, it isn't all power-pop. Some of it is lush, cloud-esque pop nuggets. But, Willoughby and company turn even the most pillow-y melodies into something you can sink your teeth into and rock out with.

When the mood calls for it, they get down and dirty and make you shake your ass with the proper amount of power-pop. And when the album calls for a slower, more layered attack, the band gives it to you.

This is a sweet, sugary, and sticky pop record comprised of thirteen nicely executed pop delights that you won't soon forget. Pop fans rejoice, the aptly named Pure Joy is here to deliver. I'll give it an A-.