Liz Phair
Liz Phair (Capitol Records)
By: Alex Steininger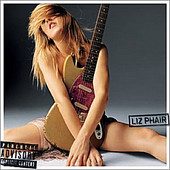 Teaming up with the songwriting team The Matrix, the team behind Avril Lavigne's multi-platinum hit, Liz Phair, indie rock's reigning princess, ditched the album's original producer, Michael Penn, in favor of the hit-making masterminds. The result is her self-titled record, a glossy, produced, and made-for-radio collection of overly tepid songs. However, despite the shitstorm that followed the album's release, Liz Phair is not a bad album. It has its clunkers (the album's first single, "Extraordinary", and the desperate-to-be-edgy song "H.C.E. (Hot White Come)"). But the album also has some shining moments, including "Rock Me", a song about Liz Phair dating a guy nearly ten years her senior, proclaiming "your record collection doesn't exist, you don't even know who Liz Phair is". Or the beautiful "Little Digger", a memorable, classy portrayal of relationship woes and how it affects a child. When Liz Phair sings, "I've done the damage, the damage is done, I pray to god that I'm the damaged one", you get goosebumps. Phair, for once on the record, seems to let us into her inner soul without trying to hide by pretending she's still the wild twenty something of her debut, and most critically lauded record, Exile In Guyville.

Despite Phair's yearning to be a pop star and feeling as if it may be passing her by as she ages, Liz Phair is still a strong release, despite some moments that are weaker than anything she's done before. What would have been a stunning EP got carried out into a full-length. I'll give it a C-.