The Glasses
Sunbreaks (NadaMucho.com Records)
By: Alex Steininger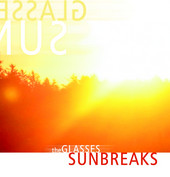 Seattle-based indie-rock outfit The Glasses come rushing out of the gates with their debut EP on the indie upstart Nadamucho.com Records, also based out of Seattle, spawning from the popular online magazine, Nada Mucho.

Sunbreaks, the band's debut EP, is equal part shoegazing and rock 'n' roll, incorporating layers of guitars over moody, though optimistic beats, and at times brooding lyricism. However, the vocals of front man Will Wagler are optimistic, giving the songs the uplifting spirit, however little, they need to keep going on.

Also incorporating part space rock into their sound, The Glasses are an indie-rock outfit through and through, weaving and wandering through sounds to see what works, and hitting upon some impressive stuff while doing so. The full-length should be something. I'll give this a B-.