Big Bad Voodoo Daddy
Save My Soul (Vanguard Records)
By: Alex Steininger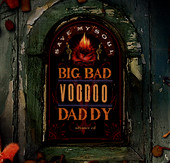 Five years ago swing revival bands were a hot commodity. Indigo Swing, Cherry Poppin' Daddies, Royal Crown Revue, and, of course, Big Bad Voodoo Daddy, garnered quite the following, enjoyed radio singles, and videos that actually got played on MTV.

However, that craze is long gone, and so are most of the bands that prospered during the craze. Some broke up because they were in it for the money and when there was no money coming in, they threw in the towel. Others self-imploded, their love of the music not enough to keep them together with everything in the industry working against them. And, somehow, one remains. That one is Big Bad Voodoo Daddy.

With their first record in four years, and first post-Interscope record, Big Bad Voodoo Daddy comes back swinging with Save My Soul, a record that relives the glory days of swing, calling upon 40s and 50s era swing. From the ancient trumpet sound through the smooth vocals, the zoot suits, and classy piano, the band nails to right on the head and proves why, despite industry obstacles, they've maintained a loyal and dedicated following - and can still sell records. Save My Soul is one of the best modern swing records, and a record that would beat most of the ones released during the swing revival craze. I'll give it an A-.