Benjamin Gibbard & Andrew Kenny
Home - The Post-Parlo Records Split CD Series (Post-Parlo)
By: Alex Steininger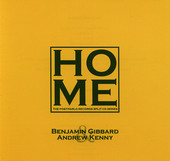 American Analog Set's Andrew Kenny and Death Cab for Cutie/Postal Service's Benjamin Gibbard team up for Home, volume 5 in the Post-Parlo Records split CD series.

Benjamin Gibbard's four songs - "You Remind Me Of Home", "Carolina", "Farmer Chords", and "Choir Vandals" - are what you'd expect from him. Acoustic-based, sweet, lyrically-gripping songs that, despite their relative ease and simplicity, pack a lot of melody, reeling you in and making you sing along with the slightest phrase floating over your head.

Kenny's songs are not as melodically driven, instead preferring the whispery, singing-in-my-bedroom-hope-I-don't-wake-my-roommates style to Gibbard's pop specialties.

That doesn't mean Kenny's songs aren't as good. The fragile, quiet, and slower songs touch upon the same emotions and grounds as Gibbard's, just in a different style, reeling you in just as much, if not more at times, the even simpler compositions of Kenny's leaving plenty of room for the listener to nestle up next two.

Both songwriters are on solid ground, never showing signs of weaknesses, and both offers up four highly enjoyable, easy-to-listen-to tracks that won't grow old any time soon. Home hits a home run. I'll give it a B.