SHOW REVIEW: Cex/Postal Service
The Cex Is So Fucking Good
By: Erik Heinecke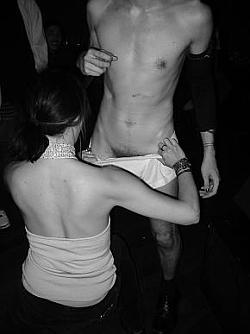 I think he scared the girl standing next to me. She dropped her recording device when he leapt from the stage and started rapping in her face. She recovered, but retreated to the bar when he said, "this one is called Orgasm Headache". I hope it didn't keep her from bootlegging the show, because she would've missed such great lines as, "food is disgusting, it's what they make shit from" and "set my stupid fucking corpse on fire".

Somehow, Cex inherited the range of Miles Davis and the intensity of Ian Curtis. Just when I was getting used to songs about sex, bikes and fifth grade recess games, Cex dropped the darkly fantastic "Kill Me" (with audience participation no less).

Perhaps Miss Bootleg was expecting a mellow Death Cab for Cutie evening. Alas, Cex was anything but mellow. He maintained hard-lined and insistent vocals throughout the show, accompanied by frayed beats mixed beneath flowing melodies and Atari-like, hiccupping tones.

Did I mention that The Postal Service also played? They were quite a contrast to the edgy Cex, but with no less emotion. The electronic and irresistible poppy designs of Postal Service were immaculate. If I heard the show they played against the actual recording of "Give-Up," I wouldn't be able to discern the difference.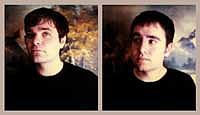 Like Cex's attention-getting stage leap, the Postal Service was extremely fun to watch. They included a visualization screen as a backdrop to their performance. The glowing pictures and lush videos were an excellent compliment to their songs. Throughout the show Ben Gibbard of Death Cab For Cutie played five (5) different instruments with the pinnacle of several songs culminating when he seamlessly transplanted himself behind the drums. Gibbard's vocals were meshed into the harmonious beats and melodies created by Jimmy Tamborello (Dntel) and his trusty Apple laptop.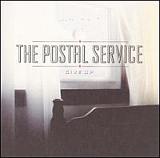 I was immediately transported into a state of dreampop bliss with the set-opening, "The District Sleeps Alone Tonight". It was a pleasant surprise when I realized Gibbard's voice was accompanied by Jen Wood. The interjection of her voice on the duet "Nothing Better" was one of the shows greatest highlights.
After a massive prolonged applause from the sold-out, Tuesday night crowd, The Postal Service came back on stage for a cover of Phil Collins' "Take A Look At Me Now".
The Cex/Postal Service show was a lucid mid-week vacation to music heaven. I wish I could better share this experience. (!!!) Maybe If you're lucky you'll discover the anxious girl's bootlegged recording somewhere on the World Wide Web.