SHOW REVIEW: Alaska!
July 21, 2003 - Spaceland (Los Angeles, CA)
By: Zakat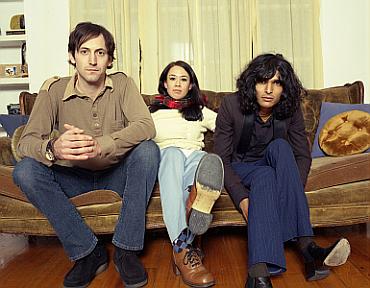 Now to be honest with you, I had never heard Alaska before, but one thing I quickly understood (after realizing I was the only one jumping) was that this isn't exactly the kind of music people dance too. Most of the hipsters who had shirts far more retro than mine, simply stood, listened, and nodded their approval with arms folded or girls occupying said space. So I followed suit, stood still, nodded and allowed myself to be immersed in the atmospheric layers of honest, no bullshit guitar work orchestrated by Imaad Wasif. Oh and he can sing too; with a voice that during the more melodic songs such as "Rust and Cyanide" produces the effect of Ben Gibbard teaming up with Helium for an eclectic collaboration. The bassist Russell Pollard was a cool contrast to the energy of Wasif and the constant grin of drummer Leslie Ishino, simply moving along with his task content to remain unnoticed.

The highlight of the night was definitely the performance of "Broken". A few informed folk in the crowd had actually yelled out for this song quite early in the performance, in tandem with the shouts requesting Diana Ross to which Mr. Wasif replied meekly "we do not play Diana Ross, sorry". Despite Imaad's lack of humor, Alaska had no problem at putting true feelings into their music.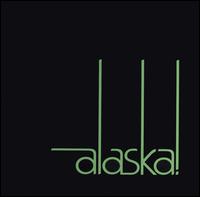 Their debut full-length, Emotions (b-girl records) is full of plenty of emotion, especially "Broken", easily one of Alaska's most emotional tracks. This was very evident in the band's performance of this epic. As the simple, yet catchy chord progression built, Imaad seemed to be putting more and more energy into his playing making each note hit even harder until eventually reaching a climax of an amazing guitar solo (perhaps improvised?) during which Imaad jumped back from the microphone and played interchangeably on his knees and at times in mid-air. I could only mutter a "wow" after this incredible performance.
The only disappointment of the entire show was that it had to end so fast. I could've listened to this band for a lot longer than the 8 or 9 songs they barely got to play.
Overall, I don't know about everyone else at Spaceland, who were like too cool to dance to this, but I really enjoyed seeing this band rock. They had energy, emotion and a welcome complexity compared to the straight ahead power-pop of Elefant, who preceded them. They are easily one of the best acts I've seen during my time so far in LA, and they are actually from LA on top of that. In any case I think I'll give them an A-, the - only for the relative shortness of the set.