INTERVIEW: Ultimate Fakebook
Former Major Label Power-Pop/Rock Pranksters Back To Basics (Initial Records)
By: Alex Steininger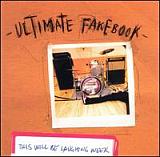 The year 2000 was a good year. It brought us into the new millennium, and brought us a lot of great indie rock records. One of those records was Ultimate Fakebook's major label debut, This Will Be Laughing Week. The record kept the band on the road for well over a year, helped them find a dedicated, loyal fan base, and carve out a niche for themselves in the underground indie-rock/power-pop world.

Unfortunately, or fortunately, depending on how you look at it, it failed to garner a hit, and the band, who called 550 Music/Sony home, found themselves without a label.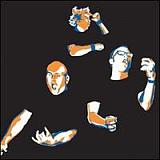 Not missing a beat, the band signed with Kentucky-based indie Initial Records. They followed up This Will Be Laughing Week with 2002's Open Up and Say Awesome, a harder, faster, but equally melodic and sugary sweet record that showcased the band's love for everything arena rock and 80's post-punk college rock.
The band followed up Open Up and Say Awesome this year with the EP, Before We Spark, which explored the darker side of their power-pop blend.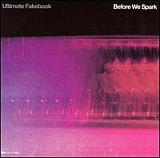 "We didn't really set out to make a 'heavier' record, but we did set out to make the arch typical 'rock' record, just like the kind we grew up listening to as kids (hence the title reference)," says front man Bill McShane on 2002's Open Up and Say Awesome. "It was just what we felt like doing really.
"[As for the EP]," McShane continues, "Well, actually, the first and last songs are the only really 'heavy songs'. The others are straight up Ultimate Fakebook pop-rock. I'd say the EP just shows that we are wanting to experiment more with our sound and will continue to do that on the next one."
The band is currently on a break, following their U.S. and European tours in spring and summer. The band plans to do more Midwest dates to support Before We Spark, before wrapping up touring by the end of the year and entering the studio to record their next full-length.
When the discussion turns to This Will Be Laughing Week versus the band's two post-major label releases on Initial Records, McShane is quick to shoot down any notions that they made a slick record for a major label. Or that they have since abandoned that sound, going as far as to proclaim that their Initial Records stuff is more slick than the major label record.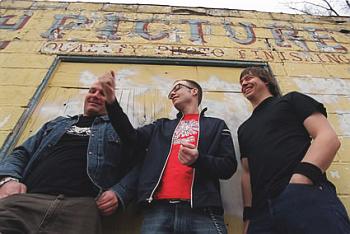 "Well, I think we in the band believe Open Up... and Before We Spark are actually quite a bit more polished than Laughing Week," he says without hesitation. "We spent much more time getting things 'perfect' on the last two for sure, especially the EP where we started spending entire days getting things like chimes and keyboard parts added in.
"I think the fact that the last two have been released on a small indie makes people think they're less polished. Yet we spent much more money making them and recorded with the same producer and same studio. The same thing occurred on Laughing Week. We would go into a big alternative rock radio station that was playing us and do an interview, and the DJ would comment that our CD sounded awesome and that all major label CDs sound so much better than indie records. And we sat there thinking, 'hmm, that's funny, because this album was an indie album originally, and we spent less than $2500 on it!' He had no idea, and it just goes to show that people assume a lot about a band by what label they are on."
As for the band's next full-length, McShane tells me "It's too early to tell" anything about the record, "but it will be very poppy and melody driven like all of our stuff. It will be full of songs that would have been great radio hit singles back in the days when those existed."