INTERVIEW: Tomahawk
Mit Gas! A Chat With Drummer John Stranier (Tomahawk's web site)
By: Ramona DeNies
Photos By: Marc Mondo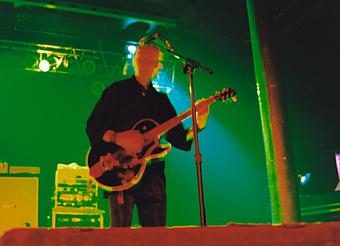 Picture one of your more infantile choices in celebrity crushes, Antonio Banderas, Christina Aguilera, hell, Les Claypool maybe. I personally am visualizing Mike Patton, ex-Faith No More, Mr. Bungle, Fant?mas, and currently of Tomahawk.

Now imagine you get to have a nice good look at your crush, in the flesh. Disillusioning, perhaps, to realize your secret crush is just another someone who perhaps has bad breath, a bubble butt, a stringy mullet or, in the case of Mike Patton, is simply a dork.

Such are the vicissitudes of life. It hurts to have your VR goggles ripped off mid-program, but it turned out to be a very good thing I caught the Roseland's Tomahawk/Melvins show on May 6th.

Though Mike Patton is significantly shorter and geekier than the iconoclastic Tarzan of rockdom he is made out to be in endless online droolfests, and though, like a Ritalin boy with too many toys, he continues compulsively mangling his voice with various gadgetry, the man remains a compellingly unique and undeniably talented performer.

The shadow cast by Patton's larger-than-life image, however, obfuscates the peership that should define the group. Tomahawk's strength is the sum of its parts, and as such deserves to be lauded for more than its choice of frontman.

A self-declared "supergroup," Tomahawk features an impressive line-up of Nintendo generation heroes. Comprised of Patton, Kevin Rutmanis, bassist (Melvins), drummer John Stanier (previously of Helmet), and de facto leader and guitarist Duane Denison (previously of the Jesus Lizard), the band exudes professionalism both on- and off-stage.

The band's two albums, Tomahawk and the recent Mit Gas, were released on Ipecac Recordings, a label Patton co-founded with Greg Werckman, ex-manager for Alternative Tentacles. Patton's relationship with Ipecac proved crucial to Tomahawk's formation, according to John Stanier, with whom I nervously chatted before the show.

The exceedingly tall Stanier had granted me an interview, and as such, I could hardly argue with his request that we talk outside in the sunny back lot of the Roseland. Stanier towered almost two feet above me, his head ringed with afternoon sun as I strained to look him in the eye - immediately I realized that the more diminutive Patton had nothing on this guy for first impressions. Stanier, who like his band mates brings with him diverse musical tastes and training, was sold on the idea of joining Tomahawk by Denison.

"I've always been a huge Jesus Lizard fan," said Stanier. "For years every time he'd come to New York [where Stanier lives] I'd hang out with him. He was always telling me he wanted to do a solo project, and anything that he does musically that I have the opportunity to be involved in I absolutely would do at the drop of a hat. I think when Mike got involved the ball really started to get rolling. They had met in Nashville, and because of the fact that [Patton] has a label, we could just record and put it out on that. We didn't have to go through all that crap of getting it out on a label, which was great. That sort of sped up the process. Duane grabbed me and Mike grabbed Kevin - there you go."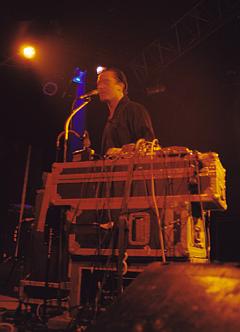 While Stanier refrains from calling the new album an improvement over the last, as many critics have done, he does prefer certain elements and particularly cites the sound quality. Stanier said the process of assembling the album resembled that of the first, with perhaps more streamlining of the writing process. Considering that none of the four band members live in the same city, ease of operation seems quite commendable?the band writes by shuttling tapes back and forth.
"It was again Duane writing all the stuff, but this time we didn't even meet beforehand. This time around we just went to L.A. and rehearsed for, I don't know, 2-3 days," said Stanier. "Both records, I myself am even surprised by how easy it was to do them. We did the whole thing in two weeks, mixing too. It came out pretty well."
Only a fool would take the short studio hours to mean that Stanier lacks a work ethic. Mit Gas is nothing if not a complex and polished album that belies Stanier's casual attitude. And his long career with Helmet prior to joining Tomahawk is a telling tribute to grit and endurance.
"I'm 34 now, and when I turned 30 I figured out that I've literally spent my 20s on the road, because I started when I was 20. That's all Helmet did was tour. We toured once for 17 months on one record."
When asked if the frenetic pace would continue with Tomahawk, Stanier gave a wry grin.
"I don't know. It's definitely getting a little different the older I get. Not that I can't do it anymore, but the constantly being on the road thing has its ups and downs. But this is the lifestyle I chose so, you know, that's what I do."
I come away from the interview slightly befuddled. The sense of professionalism I get from Stanier had eaten away at my nervousness. But it takes the show later that evening for me to piece together my impression.
Both Melvins and Tomahawk played extremely well, with little fanfare, much emotion, and great ease. I realized I was in the presence of true professionals, and in their work, at least, they were mature and unassuming. As Stanier had said earlier that day.
"It always seems to me that the bands that don't last are the guys that went to college together. Or, I could never understand bands that all live in the same house together, and tour - that just gets a little incestuous. [In Tomahawk], we're four completely different people, we've been doing this for a super long time, we have other things going on, we live in different cities. We're real professional, by the book. We definitely get along."
Soon after the show, I realized that however gifted, Mike Patton doesn't merit a crush. The man is irredeemably dorky. After repeated listening to Mit Gas, however, I can only grant him and his three equally and formidably talented band mates my utmost respect. The album and I, we definitely get along.