INTERVIEW: Second Skin
Jett Black Discusses Rock With Second Skin's Front Man, Aaron (Second Skin's web site)
By: Jett Black
Photos By: Alyssa Rapisarda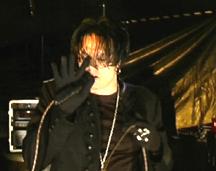 JETT: What news does Second Skin have cooking this summer?

Arron: We finished the "Black Eyed Angel" album and will be on the road in August. We also got asked by award winning Director Pearry Teo to work on his new movie, "Children of the Arcanum." We are doing music, as well as acting, and puppet shows. I was chosen for the Bad Guy role of sorts; "The surgeon that preps you for hell." Oh My!

JETT: When and where will Second Skin be performing live?

Arron: After doing Shakespeare in the Park with Christopher Walken, We will be going from Phoenix to New York. Dates have been changing off and on, however a lot of the Goth / industrial Clubs are having venue trouble, and or are really struggling with people not supporting their nights... At any rate our confirmed shows are on the website and we hope you will come out.

JETT: Which bands will Second Skin be performing with in Baton Rouge, LA?

Arron: Looks like our very talented friends Kali Yuga. They are a hell of a band, if you get a chance to catch them you won't be sorry.

JETT: Where else will this tour take Second Skin this August?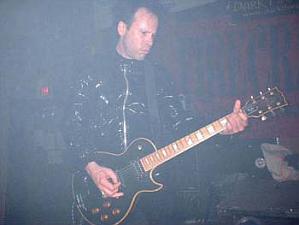 Arron: Looks like we will be in Texas, both San Antonio for the Wyrmwood CD release party another of the very talented bands we will have the privilege of playing with, then to Mcallen Texas @ the old Industrial Lounge, now known as Necropolis. This club has not had a real Goth / Death Rock act so I think they will be in for a real treat. Then to Baton Rouge, then Mississippi with the mighty Ex-Voto. Kansas City with the infamous D.J. Father Fa Q, and our old school brethren Apocalypse Theater! then off to Ohio @ "the Outlander", then the Fab Rex Theater in Pittsburgh!!! with a advance screening of the trailer for "Children of the Arcanum" followed by a screening of "Liberata Me", then I believe we are off to New York minus the Buffalo show as we got wires crossed with the booking... But we will give you a double does of Powdered Toast @ Alchemy in Manhattan!!! If there are any promoters out there reading this, and feel they can work us in please feel free to contact us, we have other dates but we are waiting details. We will work for food...
JETT: Where may readers find mp3 audio of music by Second Skin now?
Arron: For the time being all we have up is the typical MP3 site, but I think I will add an extra page with a taste of new music.
JETT: What themes are woven into the music and concept of the band Second Skin?
Arron: I think it is a free for all, but I will say this new album will catch the band in white! The whole album.. Same dark chocolate goodness, new wrapper....
JETT: Please tell us about film featuring music by Second Skin.
Arron: It has been a very cool experience. There have been some tense moments as there are a lot of creative minds all working on the same thing, but I think we help Pearry get across his vision both musically and Acting. We are looking for other quality projects, but it's hard to find like minds that both have the drive and unusual style that Pearry posses.
JETT: Please highlight and describe the discography on which music by Second Skin appears.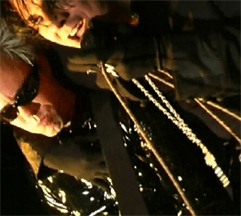 Arron: I will try to narrow it down, and I am not excluding anything on purpose but here goes. Most recently, some Very Refined, out of the ordinary comps that I am very proud of include: "Creepshow" an excellent Halloween comp, "The Damn thing smells like Candy! Scratch and Fucking sniff. Good God man, does it get any cooler than that??? And get this, it also has little songs in-between tracks. Holy Crap! It's the theme for the Munsters!! Very Nightmare After Halloween." Next up, "Kiss the Night"... A collection of Twisted Love songs. I know what a lot of you are thinking: "Not Another Comp that I will end up using as a place to set me drink... Oh NO boys and Girls, this is a gem. And I am not saying this because we are on it. There a couple comps we have been privy to and now get used as coasters" This is a must for the die hard Goth / Death Rock fans. And finally "Tales From the Vault" - a knock down dragout of Goth/Industrial. This comp works on many levels as long as you can walk the line. This comp also marks the return of the Masters "Screams For Tina". Thank God, Warren got it together, we need you!! Other than that, I still think our work on the "Goth Oddities vol 2" is a must. Hearing Rozz doing Bowie is worth the price of admission.
JETT: Aside from unleashing the music, how do band mates of Second Skin pass the time?
Arron: I am pleased to say one of the original 5 band members is back in the fold, my dear brother and talented musician Ryan as well as the Notorious "Mr. Kitty" on Guitar. Other than the once a week goth bar night we have all been busy working on music. And taking a occasional classes on the following:
"How To Make the Perfect Banana Nut Loaf"
"How to survive in a Turkish Prison"
"How to decode Led Zeppelin lyrics"
"The in and out's of Sex on a Chair" and...
"When is it a good time to put on Glitter make-up?"
JETT: What influences bleed into the music unleashed by Second Skin?
Arron: The cool thing about our sound is someone always find someone different to compare it to. If they can even compare it to someone at all. I would say if you got a big black bus. (Stay with me on this) ... If you Got a big black School bus, and picked up The Fields of the Nephilim, T.S.O.L, Bowie, That sexy chick in Massive attack, The Sisters (and their Brothers), Old Christian Death, the Church, Skinny Puppy, and Timmy ( ttttt-Timmy!!) from South Park... lit it on fire and ran it into a wall the twisted mess might have some trace of Second Skin.
JETT: Second Skin would most like to accomplish what for their fans and for their music?
Arron: A night to remember!!! Either live or in your Stereo.
JETT: Where may readers now learn more about Second Skin?
Arron: You can find out more about Second Skin at your local library, or from a book club, your local Y.M.C.A, from little wooden boy, or from a Girlscout. And if non of these yield result you can write us; e-mail or smoke signal.
JETT: Please highlight what our readers may expect to find within the pages of SecondSkin.net.
Arron: Gay porn, home and Garden tips, places to eat for under a dollar, 101 ways to acquire a man servant, and some carp about the band...