INTERVIEW: Me First and the Gimme Gimmes
Punk's Reigning Cover Band Takes On R&B (Fat Wreck Chords)
By: Alex Steininger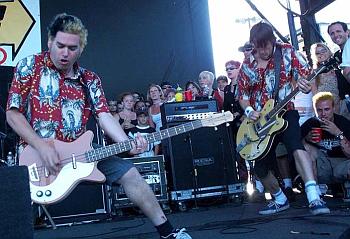 Quite possibly the best cover band in the world, or at least the most respected, the pop-punk quintet Me First and the Gimme Gimmes have put their time in to deserve such praise. Featuring Spike Slawson on vocals, NOFX's Fat Mike on bass, Lagwagon's Joey Cape on guitar, former No Use for a Name and current Foo Fighters member Chris Shiflett on guitar, and Lagwagon's Dave Raun on drums, Me First and the Gimme Gimmes are truly a super group.

Former in 1996 by vocalist Spike Slawson, Me First and the Gimme Gimmes entire purpose was to offer each musician an outlet to have fun and cover some of their favorite songs, without any strings or pressures.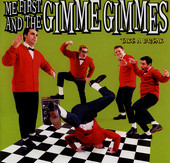 The result was 1997's full-length Have A Ball (Fat Wreck Chords), which followed countless singles and countless line-up changes. It's theme: contemporary hits, such as "Rocket Man", "Mandy", "Seasons in the Sun", and "Uptown Girl".
Since then, the band has released three other full-lengths, all on Fat Wreck Chords: 1999's Are A Drag, 2001's Blow in the Wind, and their new one, 2003's Take A Break.
The recently released Take A Break centers around black artists as Me First and the Gimme Gimmes cover R&B tunes of a wide spectrum, adding their touch to Lionel Richie, Seal, and R. Kelly, among others.
"Spike is a huge fan of slow jams and he's been fighting to make this album for a long time," says guitar Chris Shiflett, discussing the reason why they chose to cover R&B tunes this time around.
Not the easiest record to make, as Shiflett confirms, Take A Break was the band's most difficult record to record. They eventually had to break up the recording sessions into two parts to get the record done.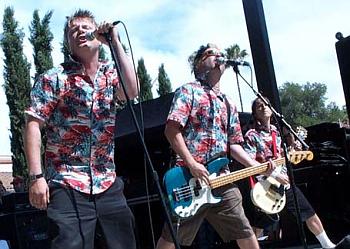 "This one was kind of hard, because when you take the soul out of a soul song it kinda blows," Shiflett admits. "We never spend much time recording but with this record we did it in two separate sessions because we didn't record enough songs the first time around. And, we recorded a few stinkers too."
One of the songs to get cut because it was a stinker was Michael Jackson's "Ben". There were others, too, but as Shiflett jokes, "I can't remember the rest. I've blocked those memories."
The band recently wrapped up a tour, playing a leg of the Warped Tour, as they do every year. This year they hit the East Coast, and as Shiflett tells me, it was one of their most fun tours to date.
"This year was more fun that last time, I thought," he says. "Things seem to be going really well for the band now.
"For some reason this is our most high profile record. It's also probably our worst. Go figure!"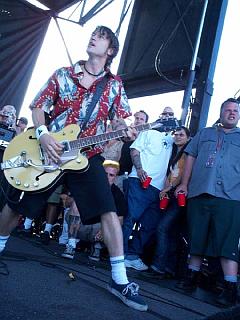 The band's next tour will be of Australia, sans Shiflett, though, who is expecting a child soon. The band also looks forward to another U.S. tour after the holidays, if all goes according to schedule.
When I ask if anyone they've covered has ever heard their rendition, Shiflett tells me that someone from R. Kelly's management company requested a copy of Take A Break. But that he doubts R. Kelly has ever heard it, and that, besides that, they've never gotten any feedback.
Leaving me with this, Shiflett tells me, "I was listening back to some of the old shit the other day. We don't play nearly enough songs from the second record. We need to have a band meeting about that."
Including such cuts as Prince's "Nothing Compares 2 U" (made popular by Sinead O'Connor) and R. Kelly's "I Believe I Can Fly", Take A Break finds Me First and the Gimme Gimmes taking a break from their 'day jobs' and re-inventing soul with a pop-punk edge. The record is available now worldwide.