INTERVIEW: Kandles At Nine
Costume Rockers Kandles At Nine Talk Shop With Jett Black (Kandles At Nine MP3s)
By: Jett Black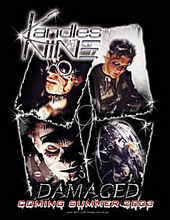 KANDLES AT NINE provide awesome live performances at special events. Costuming for KANDLES AT NINE may seem as elaborate as GWAR or those space creatures found in the Tatooine bar scene in Star Wars. Just after a recent performance by KANDLES AT NINE at Dante's in Portland, Oregon, roving reporter, Jett Black catches a few words spilling from NMEHYBRID, the alien mouth of KANDLES AT NINE...

JETT: Please tell us about the origins and history of KANDLES AT NINE up to this point.

NMEHYBRID: K9 to this point has been in existence for nearly two years, the first year being a "feeling out" period really. I mean it was during that year that we were putting the costumes together, writing, planning and just getting used to each other again after a very long break from music for all of us. Myself, Zipp and Phoenix have been playing together for years, we split shortly after recording "Drive" and "Mean Mutha" (now "Gods of Destruction"). Those two songs really set the tone for us getting back together, because they are solid tunes...comparable to a lot of music being released now...and ours were written years ago! All three of us felt we were starting to find our voice and decided we had to give this a chance. We felt as though we cheated ourselves.

JETT: Who are the band mates of KANDLES AT NINE?

NMEHYBRID: KANDLES AT NINE are: Phoenix (vocals), Zipp (guitar & programming), Nmehybrid(bass), and Simm-sin (drums) and our "fifth beatle" Halo (running the Korg).

JETT: Please describe the visual appearance and concept of KANDLES AT NINE.

NMEHYBRID: K9's visual description...think of Hellraiser cenobites, Japanamation villains, and Todd McFarlane action figures come to life or just go to KANDLES AT NINE and click on images to see us! That's kind of a tough thing to answer because the look of each member is really unique. The concept was pretty simple, we all really get off on the entertainment side of music, the excitement of waiting for your favorite rock band to hit the stage, the stage show...something we all really miss, the grunge scene killed that. When we got together we decided we wanted to mix as many of our personal interests and talents into the project as possible and two of those are horror movies and costumes. Then we set some guide lines for the costumes/characters. The character(s) had to be part of who we are, how we view the world, how we feel, revealing and playing with our dark sides. Second the costumes had to have a pro look to them...A lot of time, money and planning goes into the costumes.

JETT: Where did you get them boots?

NMEHYBRID: Both Zipp and Phoenix wear New Rock boots purchased locally or in L.A. I wear a pair of Smegg Commando boots from Pennangalan Dreams in Europe or another pair of knee highs purchased locally...I think from the Red Light on Hawthorne here in Portland, Oregon. Simm-sin's steel toed shoes were also bought at Red Light.

JETT: Please describe in some detail about what goes into the making of stage costuming for each band mate of KANDLES AT NINE.

NMEHYBRID: A lot of shopping and hunting for pieces! First, each member has made their own wardrobe with the exception of Simm-Sin, I designed and made that one, as well as, one of Phoenix's trench coats, so I can speak for those. For mine, it went really quick. I had been drawing Nmehybrid and playing with the idea of this person for sometime, I had most of the clothing from my fetish nights and goth days, so I guess you could say I just brought "him" to life. Nmehybrid was really easy for me. For Simm-Sin I really thought about what would tie this character into what he does...SKIN! Drums are sometime referred to as "skins", So I bought some latex masks that looked burned or like they had been skinned and created his skin shirt. The grommets in the skin and the screws holding it all together are so great...I recently added safety pins to the shirt...I saw Simm-Sin as a sociopath kind of person. Very meticulous. That's the thing with all of our costumes, their cool from a distance, but up close...you get a better appreciation for the work invested in them. the detail in them really is movie quality. We all kind'a give our two cents when a costume is revealed to the other guys and adjustments are made according to the wearer and any problems they may be having with heat, or improper fit, rubbing...that list can go on and on. I know Phoenix has gone through about three versions of his wardrobe and Zipp at least two...all due to unsatisfactory performance or other problems like visibility issues and such. The bottom line is time, money and a lot of mistakes to make it right. We are always finding things to improve. The costumes will always be evolving and maybe even come off one day... whatever feels fresh and keeps it interesting. Boring will kill a band in our eyes!

JETT: What makes performances by KANDLES AT NINE rare and infrequent?

NMEHYBRID: We simply do not want to bring this show to small clubs, we do not want to be known as a local Portland band that plays every other weekend at club so-in-so... plain and simple. All of us in this band have been there, done that! Time to reach for higher challenges. We prefer to play shows that will get a lot of exposure and that will allow us to give the people paying for the tickets a show. That said, it also takes a lot of time to set up our show, small venues just don't give or have the facilities we need.

JETT: When will KANDLES AT NINE perform next?

NMEHYBRID: We will be playing Severina's 2003 Halloween ball on Friday, October 31st at the Roseland Theater with King's X and Fishbone...which should be interesting to say the least. Tickets are $20 through Ticket Master. Between us and Severina Productions, trust me people will know about it!!!

JETT: What aspirations does KANDLES AT NINE plan to accomplish?

NMEHYBRID: I like to think we have the same aspirations that anybody serious playing in a band has, i.e. To be wealthy and to live out a dream we've all had since we were kids, to do what we want to do, get out of the 9-5 grind...and let's not forget the women.

JETT: What's this I hear about a new album by KANDLES AT NINE?

NMEHYBRID: Yes, We are releasing our first cd titled "Damaged" in August 2003.

JETT: What's going on within the lyrics and the music itself?

NMEHYBRID: "Damaged" (title track) is all about bad relationships and how some people have to hit rock bottom before they finally realize they need to get out or should have gotten out a long time ago. That break down where love becomes hate, laughter becomes screaming and playing becomes fighting. Everything after that is just Damaged. "Mind Control" and "Greed Feeders of the Maximillion" are about social programming, conspiracy theories and how we as a society just shovel it up and don't think for themselves any more. As is "Gods of Destruction". "Slave" is about one thing...sex! "Slave" also has a guest free style rap by a really talented rapper named A.K.A. Hu$tla, outta Vancouver. The whole Cd has a theme of non-conformity running through it, about the way we as a society work and function. How we are influenced through the media, social surroundings/pressures... the barriers these things create... it's amazing how hypocritical our society really is... every problem our society has, our society has created. We just wanted to smear some noses in it. The music has to match the mood of the lyrics and visa versa.

JETT: Please tell us about your GEAR!

NMEHYBRID: Simm-Sin is endorsed by and uses Allegra drums. Zipp uses a Les Paul Gothic and an ESP Red Devil Girl guitar. I play a Schecter Devil Tribal and a Ibanez Iceman Bass through an Ampeg STV-III head. Then there's the Korg.

JETT: I'd love to hear about all the instrumentation, and particularly what the Korg Triton does for KANDLES AT NINE?

NMEHYBRID: Well, All of the programming is done by Zipp, most of the sounds are found and arranged by Phoenix and Zipp. The rest of us pretty much give input from there on the sounds or arrangements of them. The Korg provides us with the soundscape for K9, it gives us that machine side to our music. Texture. I think the Korg also makes the writting process more refined due to the programming part. We really have to nail down arrangements, The other great thing about using tools like the Korg is that it forces you to be on your game, because that thing will never be off time or make mistakes.