INTERVIEW: Hanzel Und Gretyl
Hanzel Und Gretyl Discuss Their Europe Band, Freedom, and More! (Damned Productions)
By: Jett Black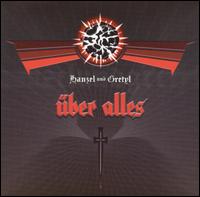 What is "THAT" all about? Distributors in Europe have banned ?ber Alles, pointing to the potential for social disturbances that might consequently arise from freedom of access to this album inside Germany. Damned Productions brings Hanzel Und Gretyl to Portland, Oregon to explain that it's not about "THAT!"

JETT: Trouble with the album in Europe?

HuG: Yes. A lot of the German distributors are finding some of the content on the record offensive and do not want to distribute it, touch it, don't want to have anything to do with it. I think they were personally offended by some of the material, and some of the imagery on the record. They just do not want to distribute it. Believe me, I'm sure the fans would love it, unfortunately. They are afraid that the fans WILL love it. Conversely, we are getting emails from kids who are getting the record and love it. They think it's ironic, and silly, and funny. They will get it online anyway.

I think in Germany they are just being politically correct, like everyone else. It's like a double-edged sword. It seems like most people get it. Nobody came up and said we are offended. And, nobody came up in uniform either. We are not getting any militant skin heads or anything.

There may be an overt group of people who just don't get it and think we are pure all about "that". and for the sake of having a problem with the music, instead of actually listening... if you read the song lyrics, or the titles to the songs, how could you possibly take it seriously? I mean, really: "Third Reich from the Sun" ??? Stop being so up-tight! Not one person has come up to us in a club and said "I am offended by you". Not one.

JETT: What about music label difficulties prior to signing with Metropolis?

HuG: I think we've always had label difficulties! Our first label went out of business, and the guy disappeared for a year and a half and left us hanging.

JETT: How did this prevent Hanzel Und Gretyl from continuing with releasing new music?

HuG: We kept writing, and we demoed other music, and we went to other record labels with our music and they said "this is great, but we can't sign because you're still signed to Energy Records and you have to legally get off that label". And then we got a subpoena that he was suing us for a million dollars after a year and a half. The whole things sounds ridiculous! And then we found a lawyer and got into a legal dispute with Energy Records and we couldn't talk about music, we couldn't even give out music for a long time. And then finally in 2002, it was finally over and a month later we got signed to Metropolis. They emailed us and said we want to sign you!

JETT: Please describe the audience responsiveness during the Fukken ?ber tour.

HuG: It's been great! Everyone who has been there has been going crazy and jumping up and down and being loud about it. Not one unsatisfied customer, I'll put it that way! We did a really good show in Seattle. Even those that didn't know who the band was but just showed up at the show anyway, we just totally won over huge fans and they bought the CD, it was really cool.

JETT: Tell us about your gear...

HuG: We don't have a keyboardist. We are a metal band. We have some playback going on that is shot via satellite. It's hard to explain. It just seems to follow us to every show. It's a transmission from deep space. It's not like a DAT player or anything. I trigger my drums and mic them, but that's only one extra step. Machine. It's a pretty normal set-up. It's not like your local band show, but it's pretty small for a touring show.

JETT: What about Soundcheck?

HuG: We found that we have better shows without a sound check. So, that's our new take. We've had some technical difficulties. However, last night in Seattle, at The Catwalk, it was awesome. The kids were going bananas. We didn't have a sound check, and it was amazing. So, we're going with that. Prior to that, we played at the old Fenix. We actually got a tour of the new Fenix last night. Rick who owns the place gave us a tour. Very cool. Pretty amazing. Pretty high tech. We want to go through there again very soon.

JETT: How do you go about choosing the other bands for the tour?

HuG: VOODOU, which is a band that is on Invisible Records, covered one of our songs. They were out with a band called BILE, who used to be our old music label mates. They called us up and said "there is this band here in NY covering your song"... so we went down and saw them, and we were fast friends. They basically said, "We want to tour, and we want to tour with you". Then our booking department said, for the west coast, we will throw HATE DEPT on there. We are like, "OK." No science. I think our next tour will be with opening bands of a different music genre... spread the word. More diversity. Crossover to other groups. Bring them all together. In Texas, the guy from DROWNING POOL was there and he was very impressed, and he's a pure metal guy, so we can definitely cross over. I think we all kinda' have metal roots. We are all from metal bands, except our bass player. She has a metal foot. She is a very metal chick. I need to say this for the record. She's formerly of DRAINED STH. She's beyond metal. She's titanium. She's Über Metal.

JETT: You started in the United States, right?

HuG: Yes, we are American. I used to live in Germany some years back, and I got very influenced by the German language and culture. And Loopy over here loves the whole German culture thing, and he was like "sing these lyrics in German" and I did, and it became infectious. I also make up my own language. I create things. We just kinda' started out with a couple of German words and then it just kinda' grew like a fungus... a rash... it's fun! It's entertaining. It's just goddamn entertaining. I mean, do lyrics have to be in English? Why do they have to be in English?