INTERVIEW: Firewater
Former Cop Shoot Cop Bassist's Latest Record (Jet Set Records)
By: Alex Steininger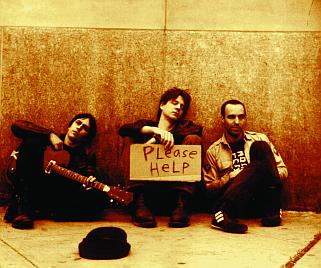 Tod A. made a name for himself early on as the bass player for the noisy outfit Cop Shoot Cop. He has since forged another identity away from Cop Shoot Cop with Firewater, who have released four critically lauded albums in the past seven years, starting with 1996's Get Off The Cross, We Need The Wood for the Fire (Jetset Records). Followed by their major label debut, The Ponzi Scheme (Uptown/Universal) two years later, the band returned to Jetset in 2001 for Pyschopharmacology, and followed up with their latest, The Man on the Burning Tightrope earlier this year.

"In general, it's been really good," Tod A. says of the reaction from fans to The Man on the Burning Tightrope. "Although, some people seem to be mildly upset by the number of instrumentals on the record - as if an instrumental wasn't music, or something. An instrumental is just a song that says what it's trying to say without needing lyrics."

"Oh yeah," he quickly adds, "somebody said that 'Too Much (Is Never Enough)' sounded like a Smashmouth song. Which is perplexing to us, as nobody in the band is really familiar with their music, except for that annoying one about being a rockstar, which you can't seem to avoid, and 'Walking On The Sun', which is actually a pretty good song."

Which goes to show that even bands with a cult following aren't immune to criticism from fans when they head into a new direction.

Not that The Man on the Burning Tightrope is an entirely new direction for the band. It's not. It still adheres to their anything goes, eclectic mix of styles and sounds. But, on the other hand, it is a new album, and Tod A. makes it a point to get more versatile, more diverse, and more adventurous with each no release, and this is no exception.

"We think a record should be like a bus ticket to somewhere, but you're not sure where that somewhere is going to be," he insightfully says, referring to not just the new album, but every Firewater album in general. "A record shouldn't just give you thirteen variations of the same four elements, like McDonald's, or something. 'You liked that one? Well here's the same thing, except with extra cheese.'"

And a McDonald's Firewater isn't. Drawing from around 25 songs and recording the majority of them, then dwindling down the album from that, the band always have a pool of material to draw from. So they can "put them in an order that leaves people in a different place than when they got on the bus," he says, going back to the bus metaphor.

Tod A. doesn't let rules bog him down. His only rule ("If you can call it that," he says) is that he doesn't worry about what the song is about.

"It's good to keep it vague and a bit mysterious, even to yourself," he suggests. "I think music can express thoughts and emotions that can't really be communicated in any other way, and if you think about it too much, it can kill the song."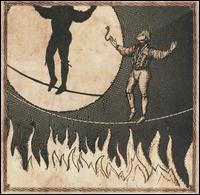 He employs that train of thought heavily throughout each Firewater release, especially Tightrope. He makes the songs vague enough to cover a universal spectrum of emotions and make it appeal to anyone who likes music open to interpretation; but he also leaves enough concise meaning behind the songs as to not lose the focus.
"I think lyrics and music come from different places - left brain vs. right brain," he says when discussing the lyrics meaning in comparison to the wide array of music the band delves into. "They seem to come along simultaneously, yet independently of each other. I find it's not good to let one get too far ahead of the other. Otherwise, you wind up with a complete song that has no idea what it's about, and the song will turn it's nose up at any of the lyrics you try to feed it. I'm always writing lyrics, though. I keep a little notebook for things I overhear, or if a good line pops into my head."
However, this time around, Tod A. and company hoped to accomplish more than they had done in the past with instrumentals, creating music that speaks for itself, without the need for lyrical clarity. He was quite happy how each instrumental turned out, though admits some sounded different on tape than he had originally envisioned in his head.
"I was pretty happy with how 'Ponzi's Revenge' came out. I'd never done an instrumental arrangement quite that complicated before," he confesses. "But it's good to keep the carrot dangling just a bit in front of the horse."
He continues, "I wanted 'Before The Fall', the other instrumental on the album, to be more massive and creepy, like a child's nightmare of a monster carousel. It always sounded that way in my head, but somehow the finished product falls a bit short. You win some, you lose some, I guess."
The band has yet to tour behind Tightrope, and, besides a handful of gigs in Europe prior to the record's recording, hasn't even played the songs live yet. The band hopes to tour throughout the U.S. in November and hit Europe next year, most likely in February. However, Tod A. says that the band doesn't like to show up to a town and bore everyone with depressing songs, so he promises a more punk rock-esque show of "high-energy, drink-til-you-drop" show.
For those unfamiliar with the new record, Tod A. reminds me that the band is streaming it live from their website. You can hear it at http://www.firewater.tv.