Favorite Waste of Time
DVD reviews and musings
By: Randy Harward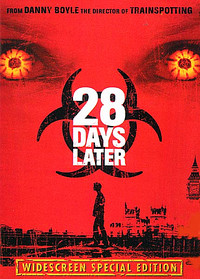 Hey. Welcome to another dose of self-referential drivel...soon to be offered intravenously!

I don't know whether to prance naked in a field of poppies or piss, openmouthed, into the wind after seeing 28 Days Later. On one hand, it is simply the best zombie movie...best horror film...to see theatrical release in--I can't even remember how long. It's a totally unbelievable concept: no marquee actors. A coherent (if somewhat spotty) plot. Zombies on crosstops (see the film and figure it out...can't bear to spoil it if you haven't yet had the pleasure). It's simple and damn near perfect; actually scary. I do have complaints (a plot sag, and the cross-legged, cake-eating, James Spader-lookin' pansy next to me in the theater) but they barely detract from the exultant joy in seeing a horror film done properly (as opposed to this fast-food Scream/I Know What You Did/Darkness Falls crap). What makes me wanna humiliate myself is there are ideas in the film that I somehow thought I had first ten years ago, but are sadly not as original as I thought. That's okay though; it proves more people...good ones like writer/director Danny Boyle (Trainspotting, The Beach) are dissatisfied with horror films. And that means there's hope.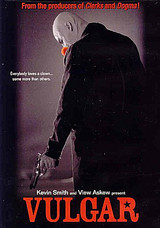 Now for a shitty one. You wouldn't happen to have seen the View Askew (Clerks writer/director Kevin Smith's company/collective/cult) film Vulgar? It's on DVD courtesy Lion's Gate and barely scratches what's hinted at in the blurb synopsis on the back of the DVD cover. We're led to believe the View Askew clown (christened Vulgar and played by Brian O'Halloran, who played Dante in Clerks) is gonna get into dirty/nasty/funky/quirky/funny vulgar trouble View Askew-style, but the film is just a lame attempt at visceral drama trying to skate by on the View Askew brand. Kevin Smith's involvement appears to stop at a small role and the lending of his name.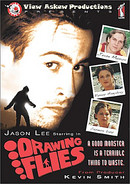 Not that that's a bad thing. After all, Drawing Flies was the same situation and was actually pretty good, a much better dramatic foray. Then again, it had Jason Lee in the starring role (a much better actor than O'Halloran) and benefited from better writing. [Can't comment on A Better Place (another View Askew dramatic dalliance) just yet...haven't seen it. But I don't need to in order to say that Vulgar only succeeds at living up to its name...and not even in a good way.]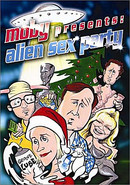 Speaking of bad attempts at View Askew-ness, there's Moby's Alien Sex Party, another badly written indie "comedy" that thinks credibility comes by association. "Executive Producer" (VANITY TITLE ALERT!) Moby's face pops up a few times in the film, which really wants to be Clerks in a porno shop (despite many referential jabs at the film).

MULLET vs. MULLET: A Grudge Match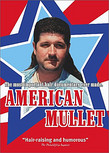 Lately no one can resist mullet mania and I'm no exception. Just bought a nice little mullet wig on eBay and have been attending classic rock and butt rock concerts (more on butt rock next month) not just for the quality music, but for the unparalleled joy of watching mulletheads and camel toes in the throes of power ballad-induced ecstasy. It's simply fascinating.
So, when a couple of mullet-themed documentaries (Lion's Gate's American Mullet and Take 3 Films' The Mullet Uncut) popped up on the radar--it was natural FWoT fodder.
American Mullet sucks. An affectionate look at mullets? Why? The fascination is based on the fact that the hairstyle (if you need it explained, just go away) is the revulsion one feels seeing someone sporting such a coif. So why be nice about it? Sure, let the mulletheads justify their existence (we all wanna know why) but don't turn it into sentimental LifeTime/Oxygen/Oprah crap. By doing so, you miss the point on mullets altogether.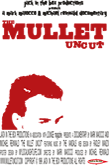 Thankfully, there's The Mullet Uncut (www.themulletuncut.com), in which filmmakers Michael Reinwald and Mark Maiocco dared to ask the hard questions, dared to clandestinely obtain footage of mulletheads in the wild...even dared to approach them, once earning an ass-beating for their efforts. It's every bit the funny, rancorous film that a mullet documentary should be. And with music by the Vandals!
Next month: Cock rockin' beats! The Educational Archives DVD collection! Professor Television's Photo-Theremin vs. neighborhood dogs (beautiful music)! An attempt to understand my vinyl junkie friends! Black Nasty! Ten Benson! Steely Dan (seriously)! The Blazers! THE HULK (the Lou Ferrigno one, not the CGI bullshit)! And whatever else flipped my skirt up.
Thank you and goodnight. There will be no proofreading.