Gordon Downie
Battle of the Nudes (Zoe Records)
By: Alex Steininger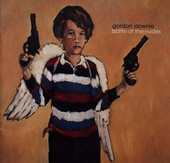 Former Tragically Hip front man Gordon Downie is one of Canada's most beloved singer-songwriters. If his resume with Tragically Hip isn't reason enough, Downie's sophomore solo record, Battle of the Nudes, will lend credence to that fact.

On one hand he stays with what he knows, not straying too far from his Tragically Hip days. On the other hand, he does a complete 180 and forges ahead, leaving the Tragically Hip behind him and creating a solo career for himself.

Battle of the Nudes is a rock record. Though it has its country and folk elements, at times sounding completely rustic, leaning on the Americana genre for support. The majority of the record is spent exploring what inspires Downie, as he goes from brooding percussion and faint guitars, leading the way with his voice ("Steeplechase"), eventually bursting into the rock he loves most. To keeping things as simple as possible so there is no distraction between his voice and lyrics and the listener ("Into The Night").

Whether you like it slow or loud, combustible or cuddle-able, Downie serves it up throughout the thirty-seven minute duration of this record. A strong sophomore effort from a proven talent; I'll give it a B+.