VARIOUS ARTISTS
Hit The Hay, Volume 5 (Sound Asleep)
By: Gary "Pig" Gold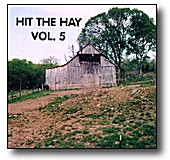 Jerker Emanuelson's rightly-famed Sound Asleep Records prove once again that there indeed IS life long after our latest New Traditionalist [sic!!] phase has been hijacked by Ryan Adams et al onto the pages of "Entertainment Weekly."

The forty-six (Count 'em!!) tracks cramming these two dynamite discs not only continue the grand "Hit The Hay" tradition of spotlighting only the world's very best rooty-rockers (this time around for example: Peter Case, Jason Ringenberg, Don Dixon, Tom Staley) but branch wide open and out upon poppier plains as well (Mitch Easter, Barely Pink, the gosh-almighty Lolas even). The result? Just about the finest compendium of mirth 'n' melody to be found anyway anyhow anywhere these days --but really, we've all come to expect nothing less from Jerker's gang, truth be told.

Please be sure to visit www.soundasleeprecords.com as well while you're at it, and sample as many of the label's other fine offerings as you can too, won't you? They deserve it. And, dammit, So Do YOU!