The American Analog Set
Promise of Love (Tiger Style Records)
By: Alex Steininger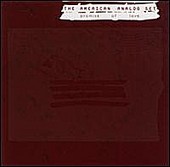 Austin's The American Analog Set deliver another album filled with monotone, mostly go-nowhere pop and drone-y indie-rock on their fifth record, Promise of Love. Comfortable and set in their ways, they rehash the same old thing from album to album, rarely updating it, and rarely making waves with their sound. While this may be the death of any other band, especially seven years after releasing their first record, somehow the American Analog Set hold on, while making it sound acceptable.

Promise of Love is gorgeous, set in its familiar ways, offering a relaxing, soothing setting where you can go and rest your head or just sit and ponder, absorbing the dreamy pop, the occasional guitar-led rocker, or quirky, danceable beat. What should be its downfall is its biggest selling point, and its greatest asset. They know what they do, do it well, and along with breathy vocals, conjure up a drone-y pop charm that just doesn't get old. I'll give this a B.