Elliott
Song In The Air (Revelation Records)
By: Alex Steininger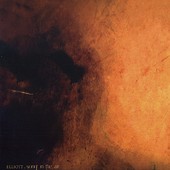 On their third full-length, the Louisville-based Elliott (which only features one man from the original line-up, front man Chris Higdon) show maturity and growth, as their hardcore and punk influences dissipate, the sound going instead towards an airy, softer fill, carried out by their emo pulse. Higdon's voice lulls you into a spell, while the tender instrumentation cradles you; rocking you back and forth and making you feel comfortable throughout the album's nearly fifty-minute time span.

The songs are mellow. They never jump out at you or try and bite you when you get too close, as the band has done on their previous two releases, 1998's U.S. Songs and 2000's False Cathedrals. Song In the Air steers clear of that, using keyboards, strings, and drum machines at various points in the album to refine the already smooth textures and layers of their songs, and to heighten the emotional context in which the lyrics rest. I'll give it a B+.