SHOW REVIEW: The legendary Dismemberment Plan's last show
June 5, 2003 - The Knitting Factory (Los Angeles)
By: Zakat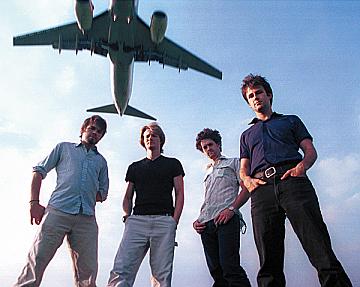 At 10:58PM, on June 5, in the year of 2003, as my adrenaline mounted, I hurriedly approached the Knitting Factory in Hollywood, stepping on a few famous stars along the way. As I run up to the box office door, I read with initial disbelief, followed by a stupid "duh": "The Dismemberment Plan / Enon is sold out".

Devastated, I walked into the tiny office anyway and mumble, "Is it true that they are sold out?"

From there, the conversation went like this.

"It is," they told me.

"Maybe you have some cancelled tickets?" I plead.

"Nope," they interrupt.

But then, my bad luck streak ended and my winning began, or so it seemed.

"Well, there is this one ticket, if you can guess the name on the back its yours," they sarcastically spit out.

Now, by this time I could tell they were just laughing at me, but I tried anyway.

"John?" I guessed.

"Nope," they laughed.

At this point, I gave up. I wasn't going to get in, and I knew it. Heartbroken and on the verge of tears, I slowly turned around making my way back through the smoker crowd, pausing to see if some indie rock angel would leave right at this moment and fling to me her no longer needed bracelet with a seductive wink. I hung around for about five minutes waiting for this to happen, but for some reason it never did.

At this moment, I heard the teasing opening riff to "Following Through" escaping from the Factory. At that moment my head hung lower than it ha hung in awhile. But then a miracle occurred.

As I stood there looking at my feet, I was suddenly awakened by the voice of the ticket girl. I looked up in disbelief to see her standing there holding the last ticket. "Here, it's yours," she said in a sweet, angelic voice, one that brought the tears down my face even more. But these were tears of joy.

"W--wa--wait-- how much do I owe you for this?" I asked in a sheepish, school boy voice.

"Nothing, we felt really sorry for you," she said.

And with those words, I looked down and noticed the ticket was in my hand, and the girl had disappeared back into her office without a trace. Next thing I knew I was inside with a drink.

When I got to the stage, the Plan was just starting up "Sentimental Man" to a diverse crowd interspersed with frat boys actually singing along, indie angels clad in black. And, of course, your usual collage of thrift store warriors - like myself. Shivers ran down my back as I heard Travis hit the high notes of "and my parole denied". I smiled to myself and thought, "yeah, this is the shit".

As the evening progressed, the Plan allowed the audience to raise hands and make requests. In addition they had so-called "play by play" commentary from Cex, who was this lanky guy with crazy hair and glasses to match. He would take requests from the standouts in the crowd, saying stuff like, "alright this guys being weird, what do you want to hear?" and "I love a magician!".

Of course, the crowd went into a zoo-like frenzy.

One interesting note, at one point a few people began moshing and suddenly Travis said, "stop" with major conviction, causing the entire band to stop playing, simultaneously doing their best mime impressions.

"We are a pussy band. We are more pussy than the Postal Service," Travis exclaimed. "Take that energy and funnel it somewhere else, ok?" And the show went on. I think he was kidding about that Postal Service bit. Some of their music gives me diarrhea (but I like it).

Throughout the night those in attendance got to enjoy more of Travis' odd bits of humor. One time he poked fun at the upper deck crowd of the Knitting Factory by referring to the band as "Bright Eyes" when a girl couldn't name a single song to request. But nevertheless there were true, loyal fans in attendance, as I could tell by the jumping feet and the bobbing heads.

The highlight of the night was The Plan jumping into "The City," perhaps one of my favorite songs, after someone in the crowd requested it. They pulled it off effortlessly and wonderfully, the drums pounding in tandem to my heart as I closed my eyes to feel the beauty of the music seep into my veins. Travis played the keyboards while singing, which was superb, although he did go a bit crazy sometimes, which was kinda cool.

As the band closed with "Timebomb", the crowd cheered loudly, inviting the band for an inevitable encore, and in true Plan grand tradition, they came back out and burst into their epic pop-reference riddled "OK Jokes Over".

Overall the Dismemberment Plan went out with a bang. The sound was tight and everything was just right. After it was over, with a melancholy smile, I felt the echoes of their dying sounds dismember in my ears, for the last time live, forever.