SHOW REVIEW: BECK with The Black Keys
June 19, 2003 - Keller Auditorium (Portland, Oregon)
By: Sonya Brown & Jett Black



A quick switch in venue leads us to the Keller Auditorium, and away from the enormous and impersonal Memorial Coliseum. We like it better here at Keller, a first time for us both. For one thing, there's no beer "garden". Rather than being corralled like pigs, we are free to roam about the lobby and lounges with food and drink.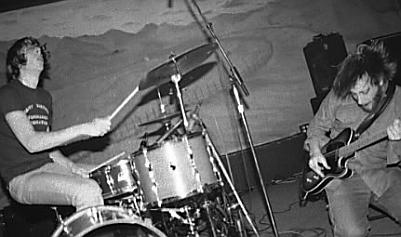 On time, 7:30 pm, BECK gets things moving with The Black Keys, from Akron, Ohio. A 2-piece band, featuring singer/guitarist Dan Auerback, and drummer Patrick Carney. Lots of energy sparking from the drum kit, very Indie-Rock, carrying a Southern Rock style. Classic Rock in the spirit of Lou Reed, CCR and Jon Spencer Blues Explosion. Flashback to 1973! Bluesy with a full band sound roll out into the Keller Auditorium. During the track, "I'll Be Your Man", off their first album, Big Come Up, Patrick uses a shaker in his right hand and a drum stick in his left hand. The Black Keys slip into another song, from their latest cd Thickfreakness, entitled "Set You Free". The Black Keys just released their latest album, Thickfreakness in early April 2003, on Fat Possum Records.
Patrick switches from 2 drum sticks to one with the shaker without hesitation, and then back to 2 drumsticks again. Their songs are short, as though made for radio, but plenty catchy. We see lots of feet and fingers tapping in time with The Black Keys as the milling crowd continues to pour in and play musical chairs... to the great annoyance of others attempting to enjoy the show. The Black Keys perform a 45 minute set as the venue slowly fills up.
After a very lengthy wait, at 9:10pm, BECK takes the stage at last! Choreographed, synchronized dance and high energy exude as BECK and his bandmates appear all dressed in black. BECK carries it off, Blues Brothers fashion, with his white button down shirt, black suit, thin black tie, and some wicked-mod black boots, looking so very young as his golden curls bop along in time to the music.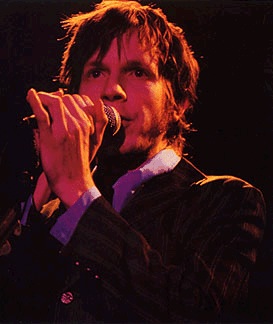 I think I was expecting a version of "BECK LITE" after listening to his more introspective CD, Sea of Change prior to this show; but BECK mixed it up nicely with both high energy and laid-back acoustic songs. Drifting seamlessly into tracks such as "Lost Cause" and "Where It's At", "Nicotine & Gravy" and "New Pollution".
Bandmates spread across the stage, balancing the presentation on spherical carpets, like action figures on pod stands. BECK exits the pod at every opportunity, walking freely, rushing the stage edge to sing to the rail hangers, stating that he feels to "far away" from the audience when he takes his mark on center stage.
A mod-like BECK dances atop monitor speakers for "A New Pollution", side step dancing to literally "cut a rug". BECK kicks it with a Roland on wheels, dancing the keys across the stage mosh pit style! Vocal distortion kick it up and into the Mr. Robotto-stylings with a serous emphasis upon the heavy base, while the intense energy-drink guitarist is spinning like a pinwheel. It makes one dizzy just to watch! Such high energy explodes mlike magic from every sector of the stage.
Moving into "Nicotine & Gravy", BECK moves into a Blues Brothers/James Brown attempt at the splits, then launches into "Lazy Flies". Subtle watercolor tye-dye oozes from the backdrop, creating a visual to go with the now wafting aroma-therapy as Mary Jane meanders her way thru the Keller Auditorium.
Bathed in purple light, BECK talks of his last visit to Portland, with the FLAMING LIPS. He waxes poetically about "wherever they may be tonight - floating in space", as band members leave the stage and BECK begins the down tempo - the desencion ebbing into the new album, Sea Change. Using an accordion style box, BECK is left solo to perform "Nobody's Fault But My Own".
Curtain walls behind the band take on a starry appearance and the screen reflects an ever changing sea of artwork as BECK launches into "Lost Cause". And then, guitarists rip it up, animated, dueling, dancing, melting to the floor and rocketing back up during "Paper Tiger".
As BECK mixes it up with "Loser", the crowd sings along, waving hands held high, cheering as roadies get to work in Beck's wake, mic stands tumbling amid tangled guitar wire. BECK skirts the stage repeatedly with funk and groove; and Mary Jane gets her second wind and begins to wave through the crowd with a re-newed passion, she keeps on rolling on down from the balcony into the standing room only like the lusty whore she we all know and love so well. Though provided with cushy comfortable chairs, the crowd remains standing throughout the entire performance.
BECK then "get's down" with harmonica and roaring train. Later, he leads the crowd into making up the words to "Where It's At" with his '2 turn tables and a microphone'... Sergio Valente, acid washed jeans, Jordache... he's on a sardonic and cynical roll against commercial bafoons and the fools that love them!
The band leaves the stage, and the stomps and cheers for the encore begin. "The Golden Age" is one of the 3 songs in his encore - adapted from his latest album, Sea Change, easily one of the best new songs of the evening.
This show goes down as one of the favorites for the year so far.