Ed Harcourt
From Every Sphere (Heavenly Records)
By: Cam Lindsay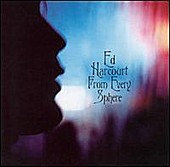 As his debut mini-album, Maplewood, and debut full-length, Here Be Monsters, revealed, there's a lot to Ed Harcourt's music to make you fall in love with him. He has the sexy voice Jeff Buckley influenced just about everyone with; the old-fashioned, cabaret stylings Rufus Wainwright practices; the diverse rock and pop sounds Badly Drawn Boy has taken into the charts; and most importantly, the integrity and oddness that has made Tom Waits one of the most important figures in modern music.

His second album, From Every Sphere, sounds more confident, curious and anomalous than his previous work. After some success with Here Be Monsters (which includes a Mercury Prize nomination), Harcourt has surprisingly not toned down his music and continued with a healthy mixture of strong pop numbers and his signature showstoppers that make him the artist that he is. His commercial touch is felt on songs like "Bittersweetheart", "All Your Days Will Be Blessed" and "Watching The Sun Come Up" (which is one part Echo & The Bunnymen, the other part The Strokes), while his taste for the unordinary is present in the Waits-ish "Undertaker Strut", which comes with a gravely voice and all.

One thing can be for sure after a few listens: Harcourt has an ear for melody and another ear for making everything slightly different from the norm. His vision is solely set on his own stream of consciousness which somehow manages to be very dark and mainstream at the same time. He's managed to better his last album, which is a great accomplishment of its own.