Noisex
GroupieShock (FlatLine Records)
By: Jett Black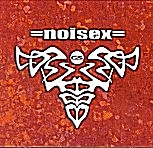 Flatline Records delivers to us now, Noisex - bold and brave and altogether unlike what one might expect from the mediocrity of the majority in available electro-industrial sewage charting pathways toward the mainstream of modern music crap. Noisex will not be confused with anything remotely mainstream. In fact, the majority of music fans probably won't like it at all. Such an opinion may not stimulate an increase in cd listening, nor unit sales... though it may conspire to strengthen the confidence of music fans already familiar with NOISEX.

Tracks from GroupieShock, such as "Enforce the Power" and "DiscoBombing", quickly become hypnotic and enchanting. Rhythms to get your body moving of its own accord. 14 tracks lay in waiting with GroupieShock. Trance weaves a powerfully contagious delerium into the heart and soul of the listener... dare to open your mind and ears to NOISEX through "Silence" with melodies so sweeping, and programming so masterful, I find it extremely difficult to continue typing at all! Noisex is isolationist music for the individual. In listening to tracks like "Freaks" and "Industrial Drummer" the social needs of the individual dissolve, and the music and the motion of the body, and the connection to present-time-reality just wash away in tides of repetition. All paranoia must dissipate or be pounded into oblivion by the sheer power of sound. "Lonesomeloverslivelonger" begins and ends by completely and succinctly etching ever further into the mind the purity of being alone in a crowded room of friends and strangers. Oh, but wait! A bonus track (sounds like the title might be): "VICTIM". Released in preparations for literally (according to all reports) the tour to end all tours, for NOISEX, at least. Join the underground! Pulsate in sweat and heat, and that tribal dance beat while you may, for soon, the live show will be no fade away, never to return. "IN NOISE WE TRUST!"