Rebecca Hall
Selections from Rebecca Hall Sings! (Listen Here!)
By: Gary "Pig" Gold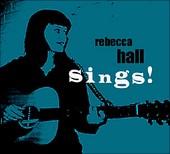 This remarkable songstress seems to have somehow summoned the ideal sonic recipe: Softly swaying tempos, gently sawing strings, and above it all a voice so tender yet expressive drifting lightly around and even beyond each single soundscape conjured.

Rooted unapologetically in traditional folk structures ("On The Other Side" especially) but letting such foundations only support -- never obscure -- her own sounds and stories of TODAY, the five songs on this CD sampler can only serve as an introduction towards many more wonders to be found in this supreme artist's repertoire. One listen to, for example, "Man Of Poor Fortune" truly reveals a subtle power at work indeed.

And, at the risk of gushing even more so, if purely-driven snow really DID have a voice, it would indeed be that of when Rebecca Hall Sings!