The Postal Service
Such Great Heights (Sub Pop)
By: Alex Steininger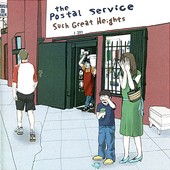 The Postal Service, comprised of Ben Gibbard (Death Cab for Cutie) and Jimmy Tamborello (Dntel and Figurine), recently released their debut full-length on Sub Pop. To support Give Up, the full-length, Sub Pop has also released an EP including the first single off of Give Up, "Such Great Heights", along with the non-album track "There's Never Enough Time", and two covers of tracks you'll find on Give Up. The Shins do "We Will Become Silhouettes", while Iron and Wine cover "Such Great Heights".

"There's Never Enough Time" is a mostly instrumental taste of what The Postal Service is all about (the vocals it does have are buried and near the end of the song). While "Such Great Heights" is a poppy version of something Death Cab for Cutie might do - if they incorporated electronics into their repertoire.

The Shins version of "We Will Become Silhouettes" drops the electronics, preferring to play it straight ahead, leading with an acoustic guitar and following with the rest of the band, delivering a folk-pop-meets-indie-rock shuffle. While Iron and Wine's rendition of "Such Great Heights" (which also drops the electronics) turns the upbeat, bouncy number into a weepy, somber acoustic-pop piece.

A marvelous idea and quite the introduction to The Postal Service, I'll give it a B-.