Lisa Germano
Lullaby For Liquid Pig (Ineffable/IMusic)
By: Alex Steininger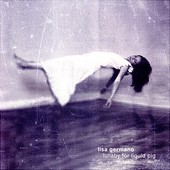 After a five-year hiatus, the dark beauty and shivery songwriting of Lisa Germano - who spent the time between her last album, Slide and the new one, Lullaby For Liquid Pig, working with David Bowie, Neil Finn, and at a book store - is back.

Lullably For Liquid Pig may be Germano's most accomplished record to date, a daunting record that both celebrates and tries to escape from loneliness and isolation.

Born out of Germano's seemingly self-imposed exile from releasing her own music, preferring to ignore the machine, work a day job, and demo at night when nobody was around. Lullaby For Liquid Pig (a co-release venture between Ineffable and Imusic/ArtistDirect) proves that the best songwriting comes from personal experience. And as the topics of loneliness, isolation, and undoubtedly self-medication, crop up, you know Germano has lived it. Especially following her parting of ways with previous label 4AD. The few years that followed, when she lived the life of a 'normal' person, working at a L.A.-area bookstore, coming home at night to spend time with her cat, before retreated to the basement to work on whatever song idea was in her head.

Working with veteran drummer Joey Waronker (Elliott Smith, John Doe, Beck, David Bowie, Badly Drawn Boy, Idaho, Johnny Cash, to name a few) and musician/engineer Jamie Candiloro (Luscious Jackson, Luna). Germano delivers a goose bump-ridden, chilling account of people who have lost all hope, separated themselves from humanity, live a detached life, and try to find reason in it all, while battling their way out (through self-medication or not). As demonstrated in songs like "Nobody's Playing", the opening cut to the album, "Liquid Pig", and "From A Shell", to name a few.

Starting off with the words, "These are your secrets, hidden inside, wherever you go, wherever you hide, nobody's playing, nobody knows", "Nobody's Playing" sets the course for the album. Germano's dark, moody, and oft-brooding piano notes fill the air, her voice matching the intensity of the grave piano.

The rest of the album's twelve songs weave between the nighttime lull and dream-sequence melodies of Germano, as the songs get fleshed out with faint percussion, sparse acoustic guitars, and other instruments.

Germano sings lullabies over and over again, the dark, hide-underneath-the-covers lullabies that will either comfort you in your time of depression and somberness, or find you biting your nails, on edge, unable to get to sleep. Whatever the case, Germano hits you at home, daring anyone who listens to this album to try and not walk away with something. I'll give it an A.