Deathray
Deathray -and- White Sleeves EP (Doppler Records)
By: Alex Steininger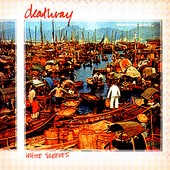 Originally recording their self-titled debut for Capricorn Records, the band eventually released it on local Sacramento-based Doppler Records once Capricorn folded. Featuring ex. Cake guitarist Greg Brown (the man who wrote the hit that put Cake on the map, "The Distance"), Deathray's self-titled debut is a power-pop, new-wave, synth driven rock record from start to finish, with enough range in between - quieter songs throw into the mix - to keep you from becoming bored. However, is it the loud, chugging guitar-laden songs that make Deathray such an enjoyable act and Deathray is filled with them.

However, on their follow-up EP, White Sleeves, the band focused a bit more on the quieter side, heading in a different direction, at times more mature, and during other times less energetic. However, the band's songwriting prowess is never in question, opening with acoustic beauty of the indie-pop "Make And Do", while arena-rock-influenced indie-rocker "Making Sure It's Canada" hints at the band's more rocking mindset.

Anyway you take the band - fast, slow, straight, or with a chaser - they always deliver quirky, well-written melodies that sparkle and shine even under the biggest microscope. I'll give them both a B+.