INTERVIEW: Dr. Theopolis
Portland's Funk-Hip-Hop-Rap Act Is Just What The Doctor Prescribed (Pimpbionic Records)
By: Alex Steininger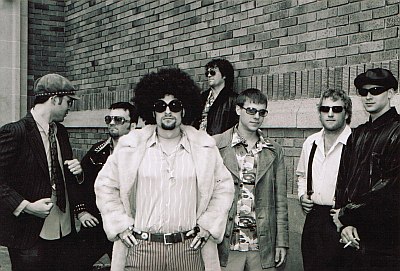 "Jules and I used to share a room and we'd come home from the bars around 3 a.m. We had bunk beds and we'd just talk shit at the end of the night," remembers Portland-based MC EZ Money (better known as Ezra Holbrook) about the idea that sparked Dr. Theopolis, the hip-hop-rap-funk octet he leads with his brother Jules. "At the time, we were in another band that was very serious, traveling to L.A., and talking to music industry people. It was getting to the point where everyone was getting stressed out. So we were talking about how it would be fun to start something where we didn't have to deal with all that stuff. Where it would be just about having fun, buddies getting together and jamming. Make it all about having a good time."

So go the humble beginnings of the ultimate party band. Blending elements of funk, hip-hop, rap, and pop, Dr. Theopolis creates a sure-fire good time, a sound (and live show) that is synonymous with women, parties, sex and laughter.

"At first it was just a total pipe dream," Ezra continues. "Then we got Jason Henry and the Doctor, and the Doctor had a drum machine. So him, my brother, and I would write songs to this stupid drum machine. After writing a few songs around the drum machine, we hooked up with Mark Mager, and Jake Endicott mentioned he was interested, and all of a sudden we had a band."

The name Dr. Theopolis comes from Ezra's love of Buck Rogers as a kid. He always felt Dr. Theopolis would be a great name for a funk band. With members, and now a name, the group got to work on writing songs for their live debut. But the songs would be re-written several times before the foundation to the band's "pimpbionic" funk sound would materialize.

"The original sound was much less refined," admits Ezra. "It took us a while to kind of find what we wanted to sound like. At first it was messy. But eventually we got it."

Messy wasn't exactly what they were going for, though there was a lot of fun to be had in messy, Ezra recalls about an early incarnation of Dr. Theopolis.

"Our very first show, the lineup was my brother, Jason Henry, Shane Fisher and myself. It was like really bad honky funk. We only had four songs. We played Burnside Records' NXNW party at Roseland. It was really bad, but funny."

With having fun being Dr. Theopolis? only objective, the band was well on its way to meeting its expectations. After all, the band members were all smiles, having a good time playing music that made people laugh.

With the departure of Jason Henry and Shane Fisher, both members of Portland-based rock act the Bella Fayes, the now infamous line-up of Dr. Theopolis materialized and the group went to work, performing to an ever-growing fan base and laying down their sounds in the studio.

"It's basically been the same line-up throughout," says band Webmaster and multi-instrumentalist Mager. "There was the original four that Ezra mentioned, but then we pulled together an all-star band with Jake Endicott from the band Jonah, Aaron Masonek, who was the bass player from the American Girls, myself, and Russ, the original guitar player. And we kept that lineup, except we couldn't keep a guitar player. They kept dying or falling over, or they wouldn't show up, return phone calls, starting selling their guitars and amps... a bunch of excuses. It's been the same lineup but we keep importing new guitar players. Ezra may play guitar, or I may play guitar. But that's all right, because we didn't want to be a guitar driven band. We said, 'no rock guitar, no solos, no distortion, not rock funk, nothing like that'."

"Until we started recording the first record, we were still all over the place," Ezra adds. "But once we started recording the record we realized the level we could take it to. That's when we started going, 'OK, how do we make this song fit into this?'"
The solidified line-up entered friend Sean Norton's basement studio and got to work on their debut, Voice of the Future, released on their own Pimpbionic Records.
"We work over the songs a lot. Every song you hear on the album, the bass lines have been reworked at least once," Mager says. "Sean Norton is our filter. There is no doubt he's a part of it. It had to go through him for some of the jokes to get cleared. We'll pull out a lyric or any kind of musical idea, (and) if Sean laughs and thinks it's funny, we know we're going the right way."
The jokes behind Dr. Theopolis are light-hearted and tongue-in-cheek, poking fun at the idiosyncrasies of today's hip-hop and rap songs.
"I love rap music, but I think that the lyrics are one of the stupidest things about it now," Ezra points out. "We realized right away we couldn't try to imitate rap lyrics. It's about all these dudes that are trying to act like something they're not. It's all about how tough they are or how much money they have, and its all bullshit in the end. So we decided we would have fun with it and make it light-hearted and tongue-in-cheek. We do a parody of that attitude, of that whole 'I take myself so seriously, I'm a big, bad rapper.? My brother wrote the song 'The Worst Thing You Ever Done,' which is a parody of the I'm-a-tough-guy-rapper songs. We're not dissing the art form, just having fun with the lyrics."
Starting with a song title based around something someone blurts out in band practice and building the song from there, one can't expect to be taken seriously. Dr. Theopolis doesn't just want you to not take them seriously, they want you to understand the joke, too, and have a good time with it. Though, not everyone always gets the joke, even though the band makes every effort to point out the craziness their songs are about.
"We've had a couple of people that have said stuff to us about our music and totally weren't getting it," Ezra laughs, "but the vast majority of people know it?s fun and not to be taken seriously."
Besides rap lyrics, the band also had fun mocking the skits rappers often put on their CDs.
"A lot of rap albums have these awful skits on them. Some guy that can't get a job is sitting on the street corner when he gets shot and then it's so tragic. It's all so cliche," Ezra explains. "So we thought we should have something that parodies these skits. One day we got Mr. Fabulous and my brother to come over, told them to be there at 4 p.m., and we bought them a bunch of beer. Then we made them drink as much as humanly possible. Then we had a mic up in the room recording and told them we wanted some Q&A between this character my brother used to do in a comedy troupe the Bottom Rung, Little Billy and Mr. Fabulous. Then we left them in the room for about an hour or two and they did all this stuff. Then we came back, found the best stuff, edited it together and put beats behind it so there was still something musical going on beneath it. They did it all, unscripted, in a couple of hours."
The intermission skits find Little Billy asking Mr. Fabulous about geography, being annexed to an island in the Mediterranean, and life, to all of which Mr. Fabulous replies with something witty and hysterical, such as answering each question by saying, "my dick."
Humor aside, the real world must sink in sometime, and in the real world, egos, money, and creativity bog down art. Can a small group, eight musicians to be exact, withstand the pressures of each other and keep their objective of making it fun first and foremost in their minds?
"We haven't had a single conflict," Mager proudly states. "Every time we change something, we all think it is hilarious and love it. We always go forward with every song and every performance, because it's fun first."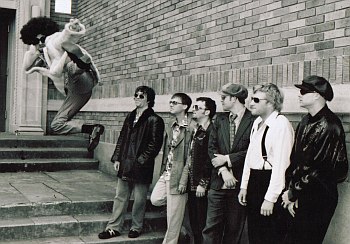 "This is the most effortless band I've ever been in my whole life," replies Ezra. "I don't think we've ever had a disagreement on anything, even something as simple as where to eat. Once the song structure happens, everyone else is left in total freedom to come up with parts. Pretty much everyone is responsible for their own parts. Obviously, if someone has an idea for something, they share it with the band. But that's it. I don't think we've had a nasty word said."
The band is currently working on the follow-up to The Voice of the Future, while filling Portland-area clubs weekend after weekend, giving concertgoers something to make out, dance, drink, or laugh to.
Far exceeding any expectations of the band, the out-of-the-box sensation of Dr. Theopolis was the only proof the band needed to motivate them and let them know the doctor's medicine was working. As they progress and gain larger and larger crowds, upping the ante and raising the bar to top "The Voice of the Future" with their next full-length, the members of Dr. Theopolis shrug off success and expectations, alleviating all pressures by putting fun first in their minds.
As we discuss a possible theme for their next album, Mager quickly reinforces the good-times vibe of the band by declaring the next album's topic "Girls no shirts, guys no pants." Look for Dr. Theopolis to prescribe the funk to you via a live show (if you live in Oregon) or a CD, available at www.drtheopolis.com.